Soak and Cycle - The Secret Spot Hot Tubs Rotorua
Posted in Cycling Holidays, Baby Boomers NZ
Published: 7/07/2020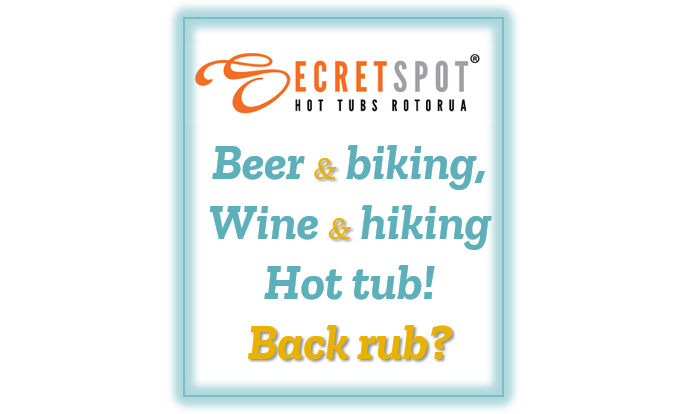 If you know the dates - choose an Accommodation option to get started. Ideal for 1 - 8 guests.
Or scroll down for more information on our Soak & Cycle Packages
All part of the Hot Tub Valley Experience

The ultimate Adventure + Relax combo, Soak and Cycle Packages are ideal for "Active Relaxers" looking to re-juvenate in the thermal waters of Rotorua.
Easy to book, with up-to-date, relevant, helpful information collated espcially for you, by locals who care.
We know all the hot pools, forests and lakes really well and offer our best advice to make sure you stay safe, cycle well and indulge if you want to.
All packages are completely flexible - with a two night minimum stay.
Easy options to purchase other deals and details, as and when needed, without any pushy sales agents or hidden fees.
You'll enjoy complete freedom for self-drive, quick but fun cycling holidays. You can chose to be self catered, eat out or enjoy a little bit of both!
Scroll down and read on to learn more about our Soak, Cycle, Eat, Stay & Play Packages.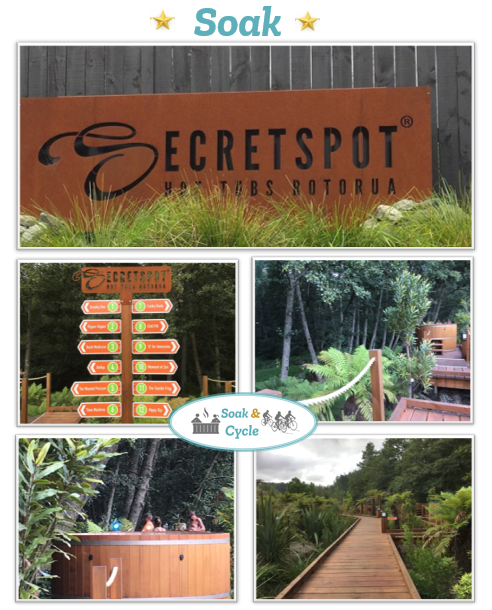 There is something truely salubrious about relaxing into warm, natural water after a decent bike ride.
You'll enjoy the crystal clear natural spring waters of Rotorua, purified and heated for your comfort.
The Secret Spot is hidden away in the Waipa Valley, in the heart of New Zealand's mountain biking mecca. But once discovered.... it will forever be remembered.....
Pick up a craft beer or wine and head down the boardwalk through the ferns to find your secluded hot tub next to the Waipa stream.
Immerse yourself in the soul-quenching pure, natural hot water – perfect for soothing tired muscles and forgetting about '2020' for some glorious 'me' time.
As you look around, you'll be delighted to realise you are surrounded by ferns and other New Zealand natives, against the backdrop of the magnificent Whaka-rewa-rewa Forest.
Breathing in the oxygen-rich, fresh forest air while bathing outside will re-set your clock and offer rejuvenation for your mind, body and soul, for a healthier more energetic you.
So, if you are thinking it might be time to take some time to look after me - (and why not!?), we think you'll thoroughly enjoy soaking in the beautifully handcrafted western red cedar hot tubs, at Rotorua's not so secret, Secret Spot.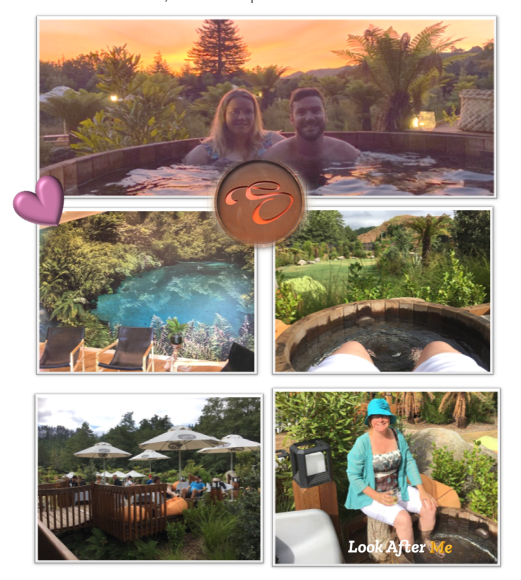 Book a one hour voucher for two people (or our hosts can do it for you).
You'll get access to the brand-new cedar facilities for showering and changing, personal lockers and your own Secret Spot Hot Tub.
We recommend planning about three hours at the facilities.
Make a morning, afternoon or evening of your Secret Spot experience - we are, of course, completely biased, but we think anytime is a good time for a Hot Tub!
If you want to keep your holiday simple, plan to enjoy at least one meal there. The Secret Spot has a beautiful indoor and outdoor café, with a fresh and delicious array of ready to eat meals and snacks for hungry cyclists.
To wash it all down, they do fantastic coffees or a generous selection of teas and other beverages.
If you really want to indulge (remember, it's always ok, to look after me!), there's a terrifc selection of tasty beers crafted by Good George.
And yes, Keith and Eric really know their wines, so they've carefully selected some great kiwi wines. They are generous yet affordable, including Rotorua's favourite (and only) vineyard - the lip-smackingly good selection from Volcanic Hills. Try a warm up your cotton-socks Mulled Wine; brewed exclusively for guests at the Secret Spot.
But wait!
We know it's cliche but there's actually more!
At The Secret Spot, they even have mini hot tubs for your feet!
Enjoy a 'Shinney-Dip' - they're free with any cafe purchase.
Soak, Cycle, Dip, Sip and Sigh and take a moment to look after you.
It's handy to everything too - the Secret Spot Hot Tubs is located right at the heart of the Mountain Bike Trail Carpark at Waipa, Rotorua.
Arrive in the morning.
Play all day.
Free parking.
Too easy.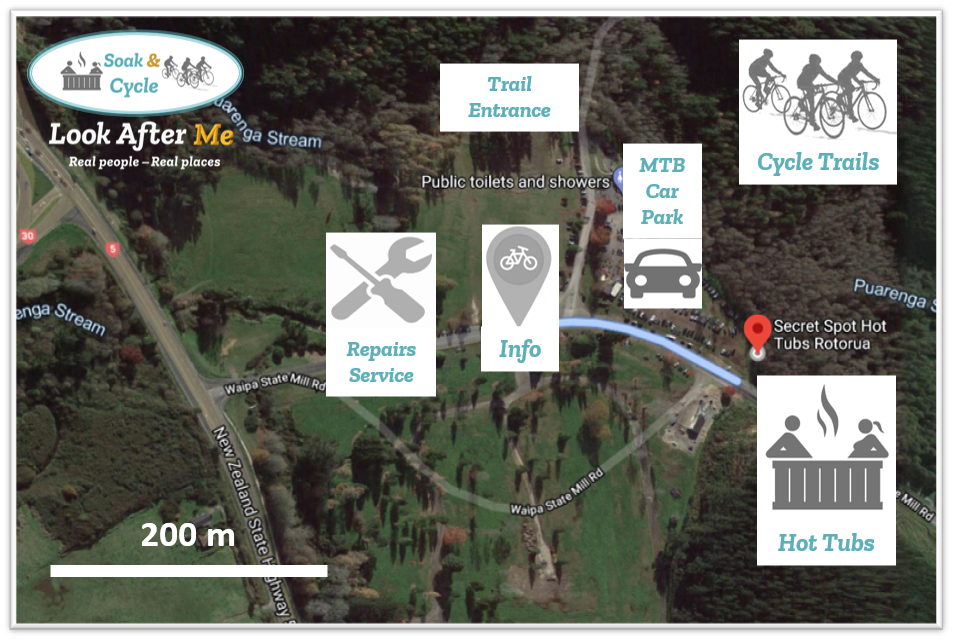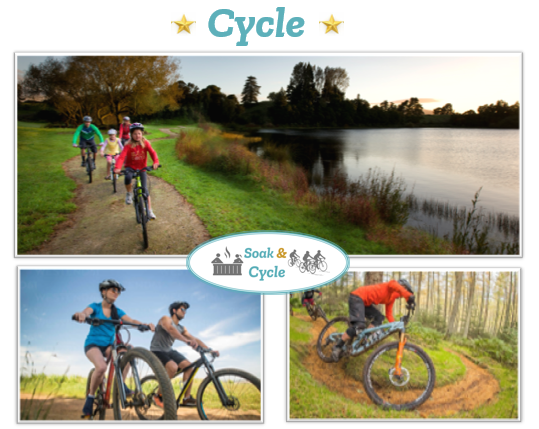 Allow some time during your three day experience, to immerse yourself in Rotorua's amazing natural landscapes.
Also included is trail access to the Whakarewarewa Forest, one of the oldest exotic forests in New Zealand.
More than 5,600 hectares of forest await, perfect for exploring at your leisure. If you love the outdoors and want to experience nature - this area is definitely for you!
A variety of forest tracks offer panoramic views, and being close to lakes, thermal areas and the city centre have made Whakarewarewa Forest one of Rotorua's most spectacular natural assets and greatest treasures.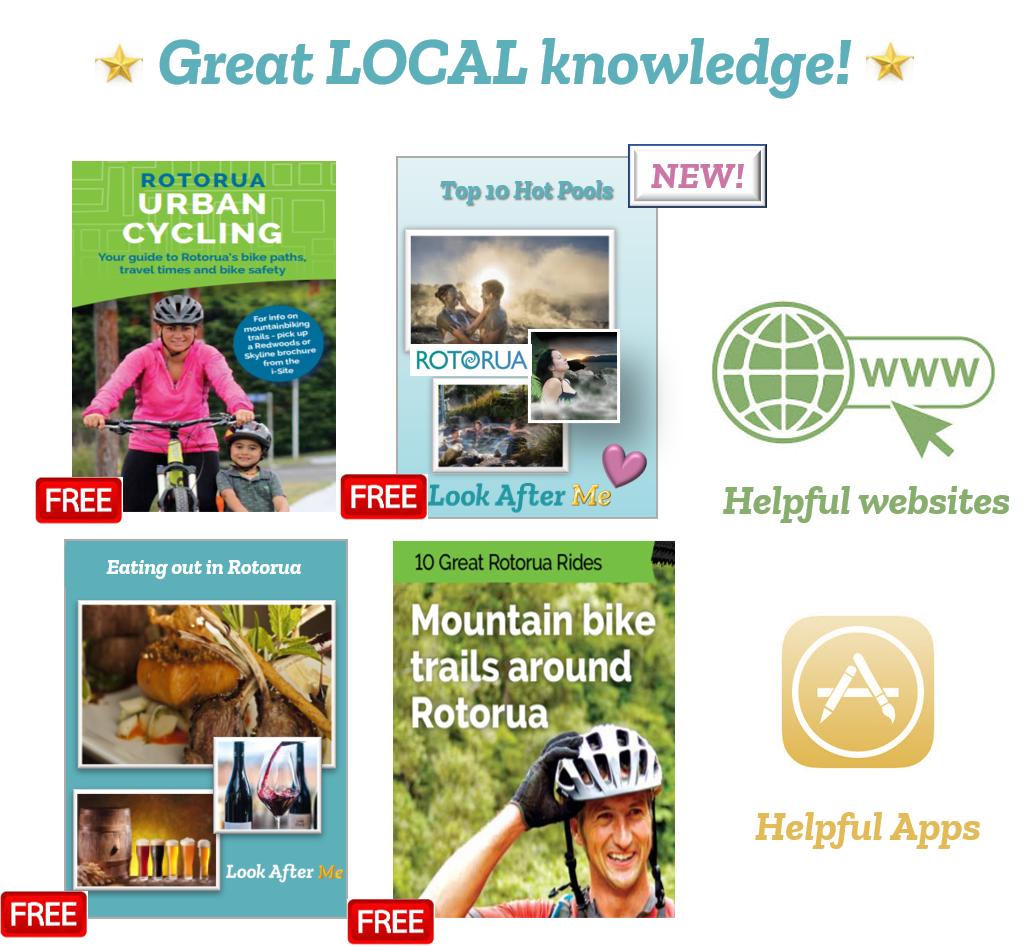 We're cyclists too and we really know Rotorua's cycle trails and walking tracks.
We bet you'll love them as much as we do!
We've spent hours collecting the most relevant, handy information about urban, leisure, mountain bike or downhill rides for visitors to our forests.
Before you arrive, we'll email you all the short-cuts to the best cycle trail information, handy websites and downloadable apps.
This gives you a chance to get to grips with the trails, tracks and the main meeting (and eating!) points before you arrive.
If you haven't been on your bike for a while, don't worry – there are plenty of enjoyable trails for entry and leisure riders. Or switch things up a little and go for a walk.
Soak. Cycle. Eat. Repeat!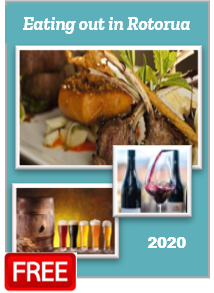 Rotorua has a mouth-watering selection of fresh, tasty eats and treats - ideal for kiwi guests living it up local. We've put together our tried and true Dining Guide to make things easy. Handy map pins, links and phone numbers make looking, booking and enjoying, super quick and easy.
And because one hot pool is never enough (trust us!) we're giving you, completely free - our brand new guide of our Top 10 Favourite Hot Pools in Rotorua (from free through to luxurious) with clickable links and map details.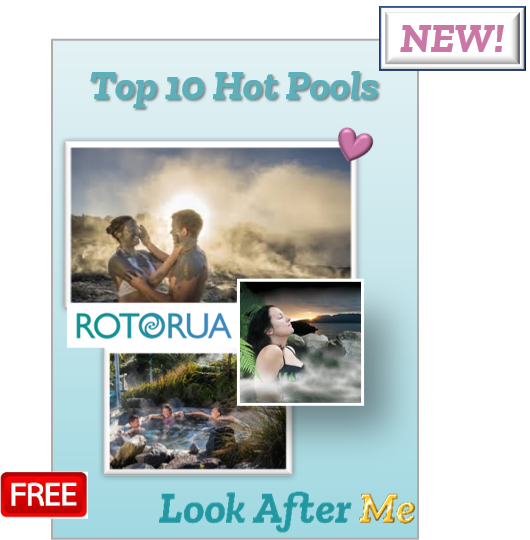 When you come to Rotorua - for three fabulous Soak and Cycling days - you'll get to live like a local so it's perfectly acceptable to dip, double dip and even triple dip!
.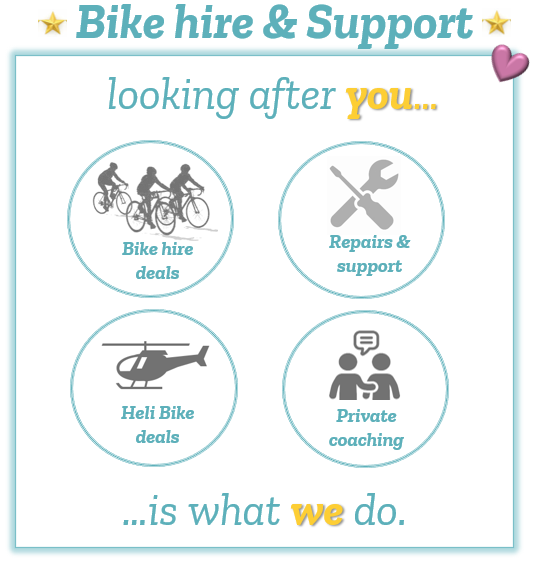 Most of our guests self-drive and bring their own bikes but if you need to hire a bike, buy a new one or fix something, of course we'll look after you.
We work collaboratively with the best local operators to give you access to great deals on bike hire, repairs, private coaching and support information, all in the one place.
We also send you options to pre-book a shuttle or a Helicopter if you're the kind of rider who wants to get right to the top of the mountain!
Birthday? Anniversary? Or Special Occasion?
Would you like fries, I mean, a new bike with that?
No problem! We'll introduce you to Bryce and Gillian from Cycle Zone.
With decades of experience and serious about genuinely good bike deals - you'll be able to swipe left, right or sideways to find, meet and ride your perfect match in Rotorua.
Want to know the best part?
After your three-day-first-date, you get to take it home and ride happily ever after!

For centuries, hospitality and manaakitanga has been an ethos that has infused our people. It is our pleasure and privilege to uphold that tradition by looking after you.
We have hand-picked the cleanest, most comfortable and stylish, bike-friendly accommodation in Rotorua.
All accommodation on the Look After Me network is locally owned and managed by experienced professionals that we've vetted to make sure they meet our high standards and real people, real places, real prices philosophy.
All have consumer quality ratings with proven experience (like TripAdvisor, Booking.com or AirBnB SuperHosts).
Our pre-arrival attention to personalise your experience with us, is genuine. Once you arrive, the Look After Me Team are all committed to providing all of our Soak and Cycle guests a warm Rotorua welcome.
Because looking after you, is what we do.
If you know the dates, start by chosing an accommodation style to browse options
Indicative prices are for two people, per night including, cleaning fees, support and free info. Options for singles and extra people can be selected when booking.
Our 10% commission will only be added on confirmed bookings. If paying by credit card, a 2.5% bank fee is automatically added.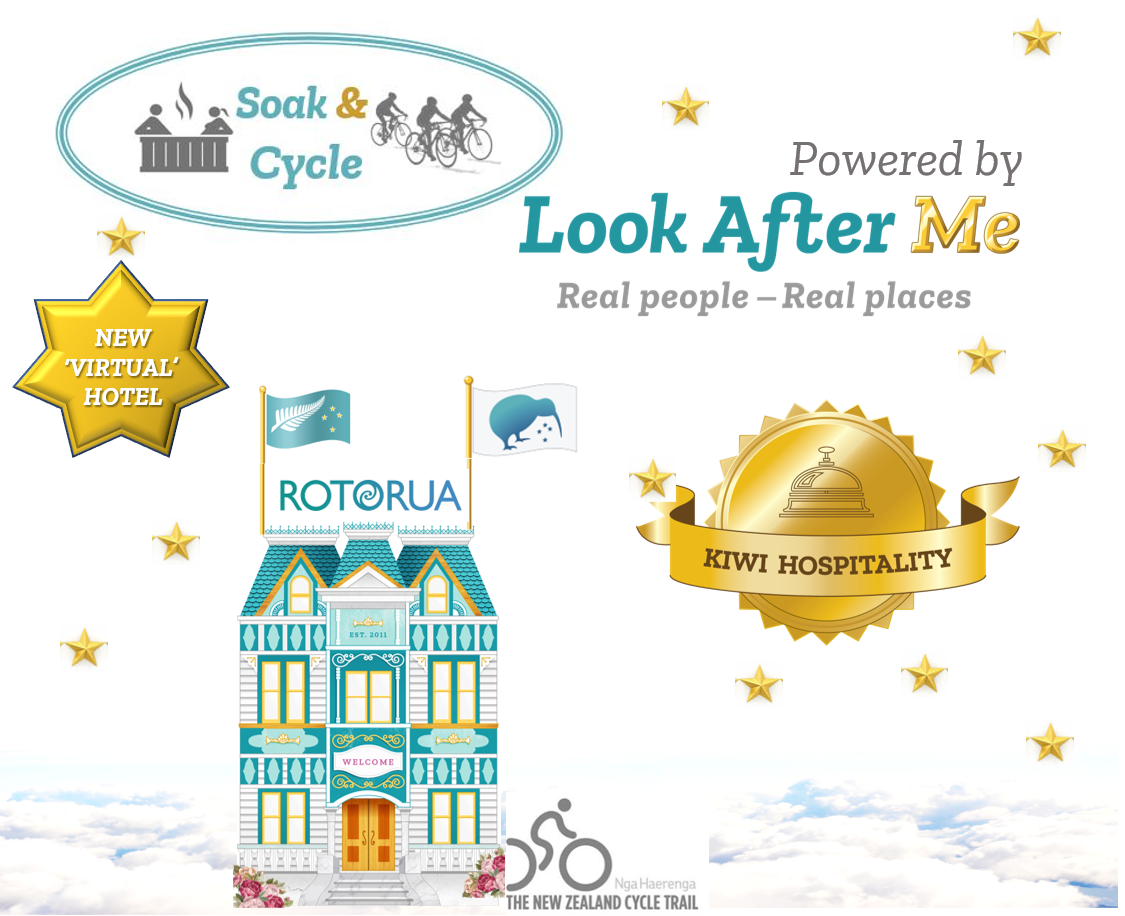 BRAND NEW FOR 2021: New Zealand's first Virtual Hotel
This is a new Tourism Collaboration for Rotorua
We built a Virtual Hotel to help New Zealand's Tourism Industry recover. We wanted to provide a united platform for small accommodation providers (less than 10 rooms). We all operate under specific guiding principles and operational practices.
Together, we created Soak and Cycle Packages especially for New Zealanders travelling around our country but also for when the borders re-open.
We exist to make your experience in Rotorua safer, easier to book, more affordable while saving you heaps and heaps of screen time.
We really appreciate your custom and are committed to keeping 100% of your money in New Zealand's economy.
We would like to thank all our trusted, local suppliers: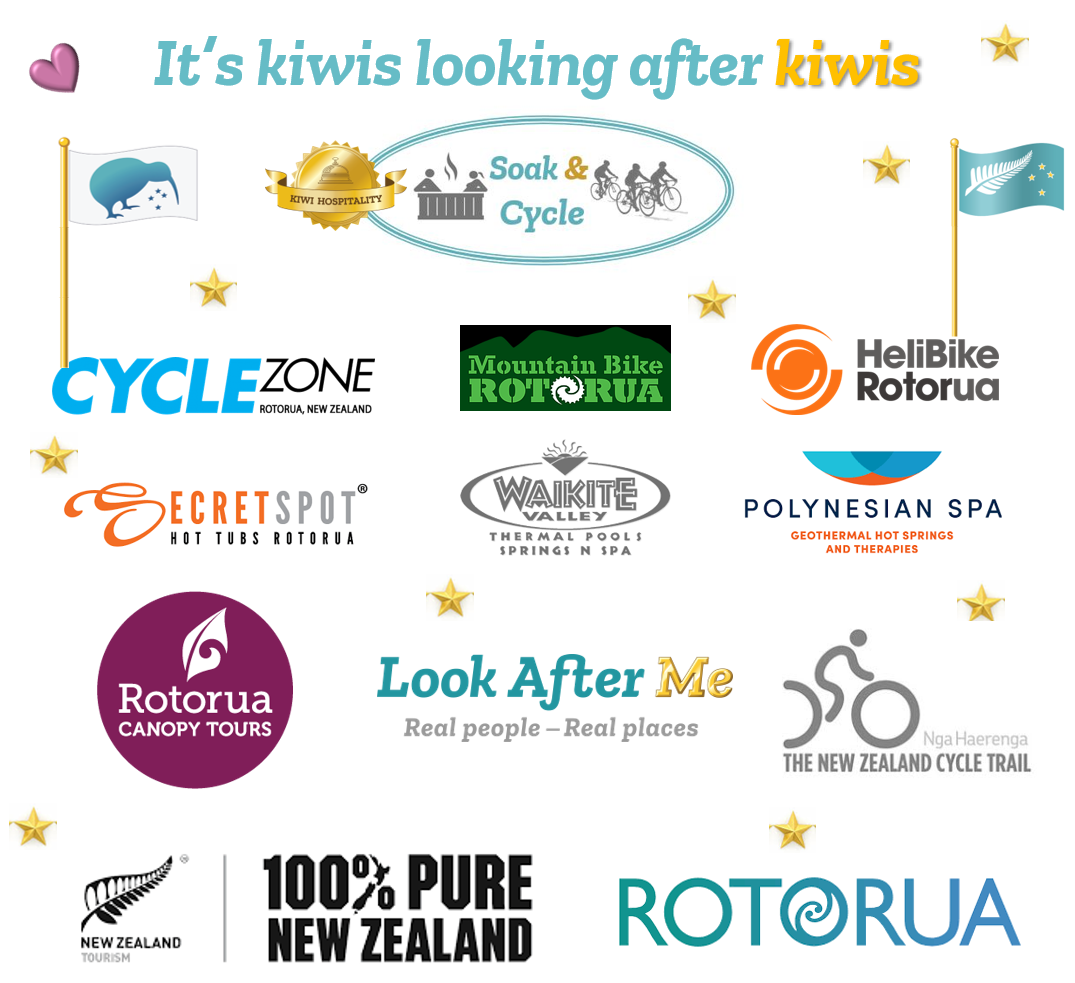 #secretspotrotorua #secretspot #secretspothottubs #hottubs #forestbathing #hotsoak #hotpools
#secretspotrotorua #secretspot #secretspothottubs #hottubs #forestbathing #hotsoak #hotpools