Safety
At Look After Me, we take your safety seriously
Our Philosophy is to provide safe, comfortable, affordable accomodation and look after people to the best of our ability.
We do everything we can to protect our guests, hosts and systems from risk, danger or injury.
We have robust software and systems managed by well-trained, risk-averse people.
Here is how our built in security and safety checks underpin everything we do: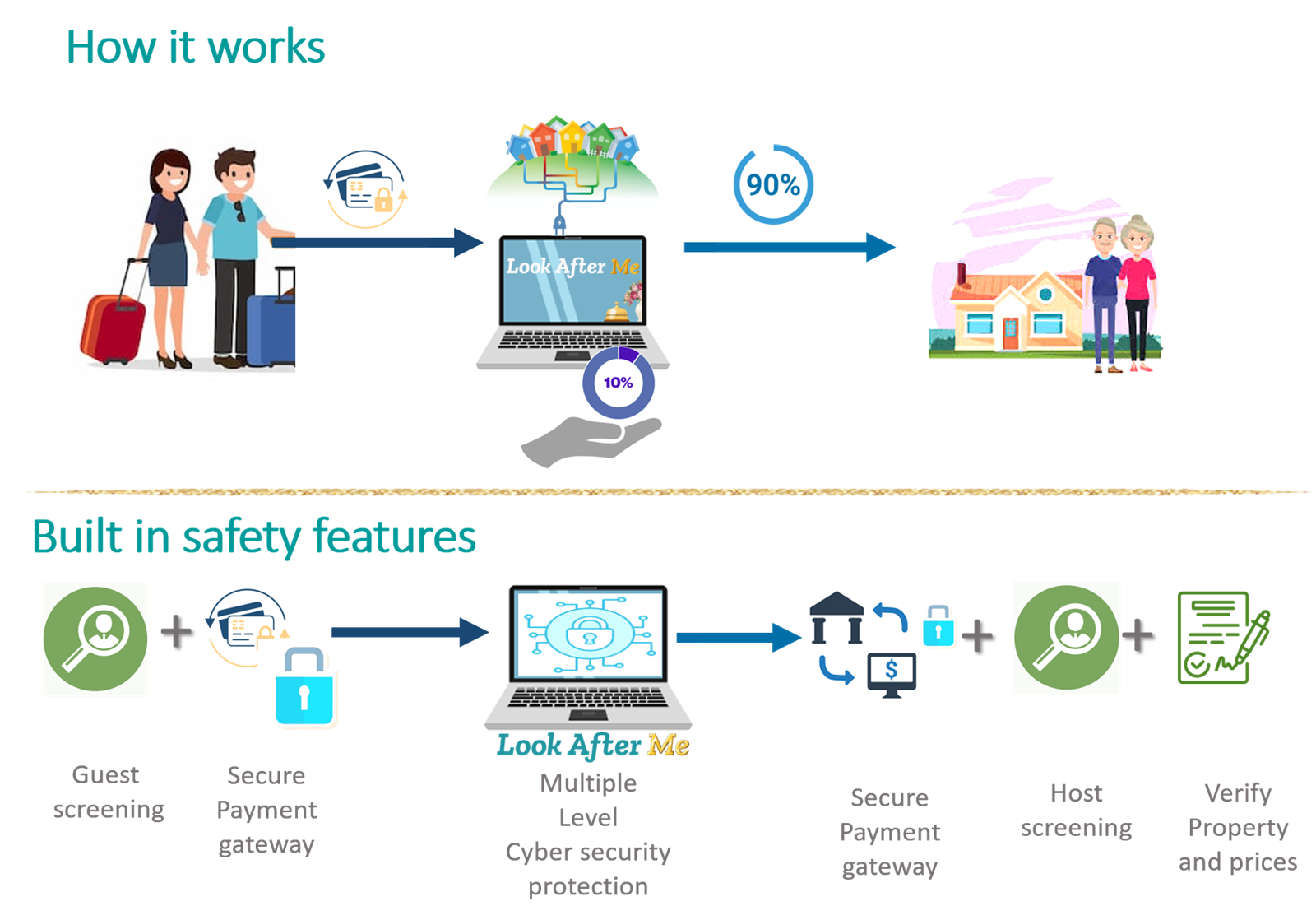 Your safety - a holistic view
We also take a wholistic view to looking after people and keeping you safe on all levels.
We care about your sense of belonging, your physical and emotional well-being as well as providing you with a supportive, responsive New Zealand based team to look after you, should anything go wrong.
Our safety advice
All of our Hosts have been personally interviewed, and/or visited to ensure their legiticimy and willingness to be a good host.
For our Hosts, we realise there is a matter of trust, as you welcome a stranger into your home. We provide the following guidelines:
What safety tips do you recommend?
Learn about your guest(s):
Do Your Homework – Look After Me offers many different ways to learn about your guest. Use all the tools at your disposal to look for detailed reviews that give as much personal information as possible.

Look for a complete profile that includes a full name, photograph and detailed reviews and recommendations from friends who are also users on Look After Me.

We only post authentic, reviews, that are the result of an actual booking.

Key information to consider: Have other hosts met the guest in person? Do they report positive experiences where someone has been respectful of their house rules? Would they host him/her again? Doing a little research before you even begin corresponding can go a long way for your peace of mind.
Look to Your Network - In your research, if you find that a traveller has ties to universities, clubs or organisations, it adds colour and credibility to their back story and helps to put them in a broader context. Check out the potential guest on Facebook, before accepting a booking.
Screening with Purpose – During the search, we do our best to match travellers with like-minded hosts. But feel free to ask questions – this is a great way to build a relationship before finalising a booking as this makes the guest feel comfortable with you and, in some cases, leads to a lasting friendship between you and your guest. When messaging, emailing or calling, look for grammar and tone that reflect precision and authenticity in a guest. Be cautious of people who offer payment outside of the Look After Me system or ask for personal information prior to completing a booking.
Take Your Time - Chemistry is a big part of the relationship with your guest. Whether booking out a shared living space or your second home, take your time and get to know the person. Be clear with your house rules, expectations and booking details in advance so they have time to ask questions. Beyond knowing who they are, you should also walk away knowing why they are traveling, who they are traveling with and how they plan to use your room/house.
No real connection? - If a booking or a conversation feels rushed or just doesn't feel right? You don't even have to be able to name it. It's important to listen to your instincts. You are never under any obligation to Look After Me. We hope that you'll be generally courteous, but mostly we rely on our community's common sense. If for some reason it just doesn't feel right, feel free to say the booking won't work for you. If it's not right for you, it's okay to walk away.
BE PREPARED:
Set Your Guests Up for Success - Most issues come from lack of clear communication -- and expectations -- so lower your risk by leaving clear instructions for your guests. Perhaps shoes should only be worn outside or you like your place left in a certain way. Maybe you don't want your guest to have parties or unregistered guests stay at your listing. Whatever your living preferences, make your guests aware of them so they know how to treat your home. They will feel closer to you and you protect yourself from unintentional wear and tear on your property. We've made this easy for you with the House Rules field in your listing description. Guests will get a copy with their reservation confirmation.
Ask for a Security Deposit - Hospitality may be your first priority, but accidents do happen. Whether it's wine on the rug or something more serious, having a security deposit equal to a night's rent is a good way to protect yourself against damage. Upon your return, make sure you inspect your property right away and, if something is wrong, document with emails to our team and photographs of the property as soon as possible. Our customer service team is available to help you resolve any issues that may arise.
Insurance - Having insurance is a simple, affordable way to protect against the unexpected. Adding the extra layer of security with renters or homeowners insurance is a good way to mitigate risk and make sure your home is protected if anything should happen to your belongings. When choosing a policy, be sure to check with your insurance provider to make sure short term rentals are covered. We recommend you confirm and understand what may not be covered under your insurance. (Also see our legal section). We have partnered with Sweeney Townsend Insurance Brokers who have developed a comprehensive yet affordable Insurance Policy with specific wording tailored to hosts renting out their properties or vehicles. Read more
Out of Sight, Out of Mind - While it's not necessary to strip your home of everything that shows character, in a primary residence there are things that should be locked away in a secure place or removed. Birth certificates, social security cards, family heirlooms, anything of personal sentimental value that would be hard to replace, and expensive, portable electronics should be locked away where guests cannot access them.
It Takes a Village - If you have a good relationship with your neighbours, let them know you have guests and offer to help them with theirs. When you correspond or greet your guests, affirm your strong relationship with them, let them know their names and that they are up to speed and available if they have an emergency. This way, your neighbours don't get worried when they see new faces in your place and the guests are aware that someone may be monitoring for suspicious behaviour.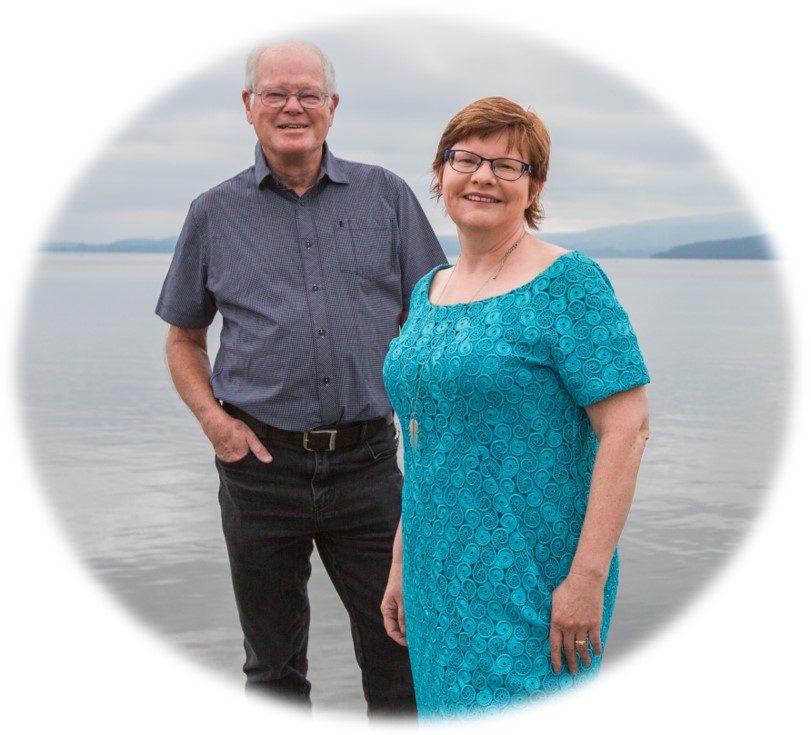 Our New Zealand based team is standing by 24/7 to help with guest bookings or host enquiries.
Please contact us if there's anything you need.
As Directors, we stand behind the whole Look After Me team and systems.
Julia Anne and Mike Johnson (co-Directors).