New Tourism Concept unveiled at TRENZ Hui Otautahi-Christchurch
Posted in Press Room, Baby Boomers NZ, News
Published: 9/05/2021
#TRENZHui21

Dr. Julia Anne (Look After Me Founder and Managing Director) launching the new Virtual Hotel upgrade in Christchurch Town Hall at Tourism Hui TRENZ, in Christchurch 5 - 6 May 2021.
New Tourism Concept: a fresh, collaborative and community-led approach
A fresh, collborative, community-led approach has breathed life into a new Tourism Concept.
The concept is a fusion between traditional hotels (like Sudima and Hilton) and cloud-based software.
It provides singles, couples and small groups with a clean, safe and more regenerative way to travel.
The "Virtual Hotel" allows guests to self-select and book stylish accommodation and holiday packages, matching their interests from a website.
Managed from Headquarters in New Zealand, this means we are now ready to leverage off the World's Shared Access Economy, an exponential global phenomenum, popularised by AirBnB.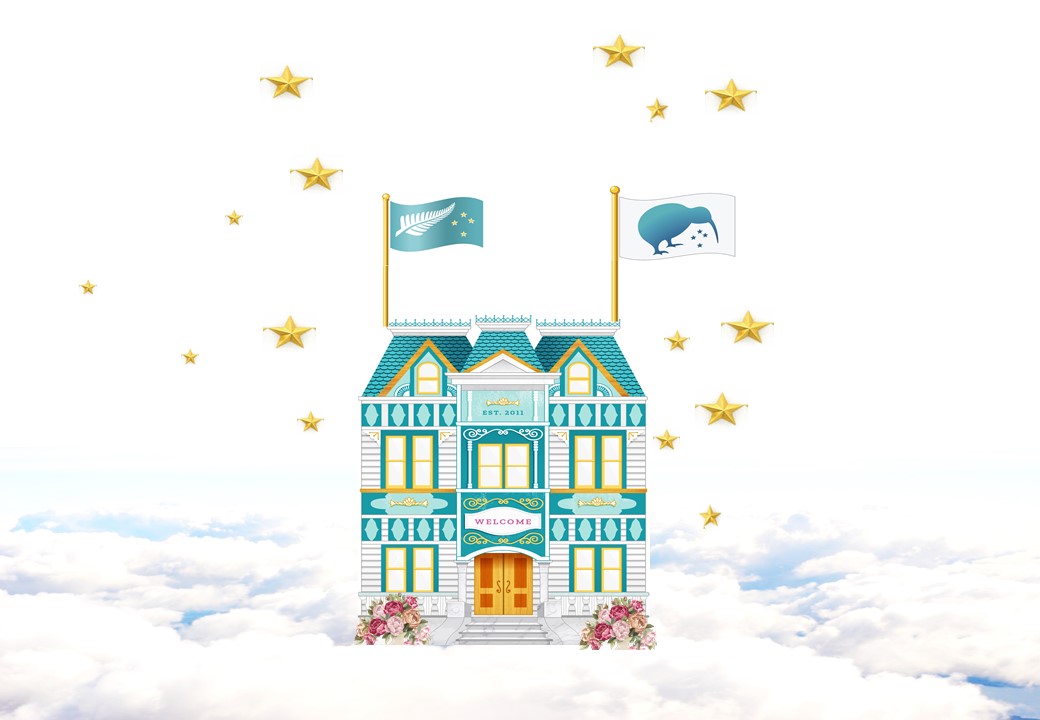 Image: Depiction of the 'Virtual Hotel' in the clouds, accessible for everyone, from anywhere, managed from Headquarters in New Zealand.
What's a Virtual Hotel?
A Hotel, by definition is an establishment that provides accommodation and other services.
'Virtual' is being made to appeal 'real' by software.
A 'Virtual Hotel' is a new travel concept, crafted and re-defined by how Covid-19 has changed travel behaviours.
New Zealand's Virtual Hotel will provide a range of accommodation and authentic experiences for discerning guests.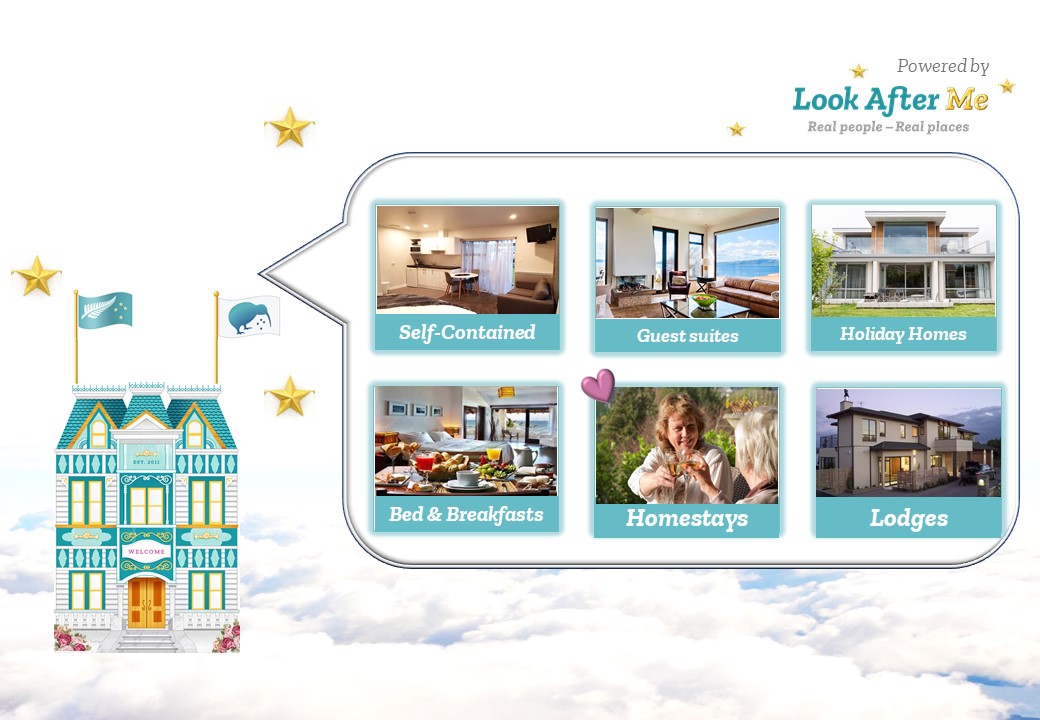 Image: New Zealand's 'Virtual Hotel' offers a range of accommodation types
Bubble-to-bubble travel is safer for nervous travellers
Encouraging smaller bubble-to-bubble travel is safer as it reduces the chance of being exposed and spreading Covid-19.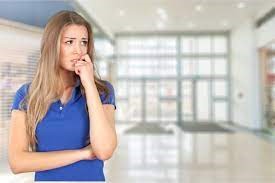 It is a good option for those who may be immune-compromised, nervous travellers or people wanting to get away by themselves to do something unique and personal.
Look After Me encourages people to self-drive as singles, couples or small friend/family groups and stay in their distributed accommodation network all over New Zealand.
This is opposite to the traditional tourism model of large groups travelling together, staying in large hotels in bustling cities and seeing New Zealand in bus group-sized tours.
Virtual Hotel Major Software Upgrade unveiled at TRENZ, Christchurch
The major upgrade to New Zealand's Virtual Hotel (Mark V) was announced by Look After Me's Founder and Managing Director, Dr Julia Anne at TRENZ, the New Zealand Tourism Industry's special hui in Otautahi-Christchurch, 5-6 May 2021.

The re-furbished look and feel, together with more sophisticated software, means guests can now access the Virtual Hotel's "reception" via a website.
Guests can self-serve and book holidays based on their interests.
Alternatively, freecall 0800 526 123 to get helpful travel advise and book over the phone.
The Look After Me Software Suite conveniently and efficiently manages the Hotel-like Headquarters, telephone reception, website, booking channel, payment gateway and financial systems.
About TRENZ Tourism Hui - Christchurch 5 - 6 May 2021
[#TRENZHui21].
TRENZ is a Tourism event hosted annually by Tourism New Zealand and the Tourism Industry Association.
This year it was co-hosted by ChristchurchNZ and MC'd by New Zealand media personality and 'mother of the nation' - Seven Sharp's news anchor Hilary Barry.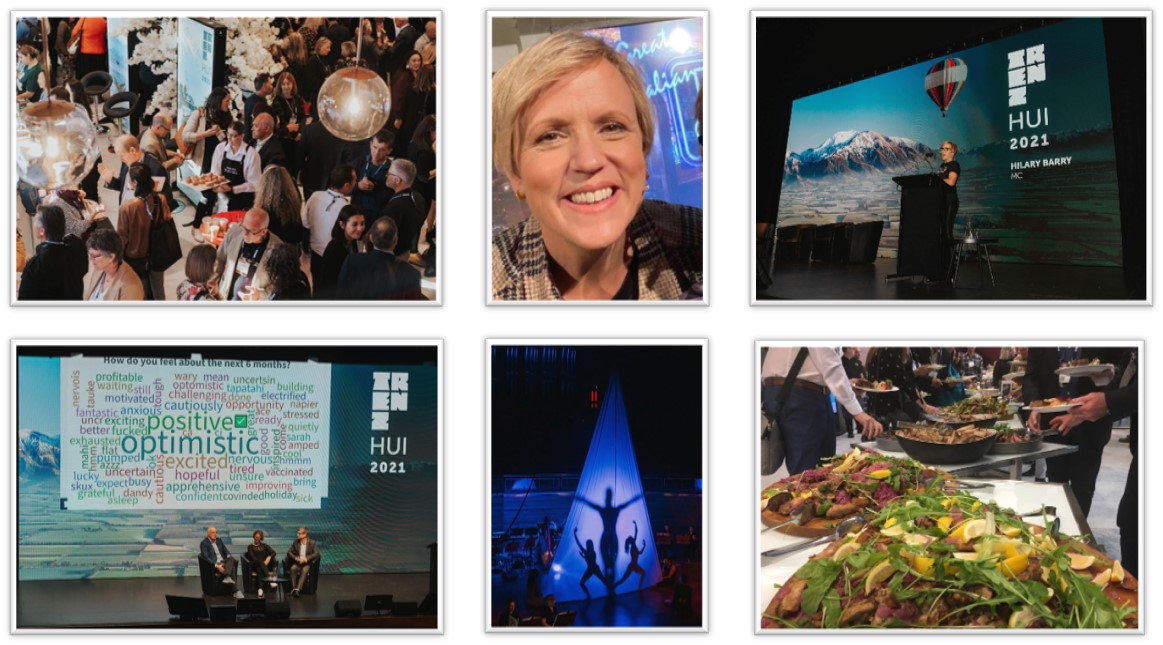 Images: The Tourism Industry Hui TRENZ in Christchurch; MC Hilary Barry; Postive mood, great entertainment and fresh, local cuisine
The TRENZ tourism hui focused on major issues the Industry is facing and brought together over 750 delegates from all areas of the industry.
Conversations focused on resiliance, personal wellbeing and the creative forces that have driven the re-build back better Christchurch.
Dispite the challenges Covid-19 has brought to the industry - the mood was overwhelmingly optimistic and positive, particularly after the announcements of a community-led Government tourism package which focused on mental health and wellness of people in the industry.
"The Christchurch Town Hall, where the tourism community gathered with hope and optimism and a strong desire to re-invent and re-imagine our industry, was an ideal note to announce the major software upgrade to New Zealand's Virtual Hotel," says Julia.
What's so special about Look After Me?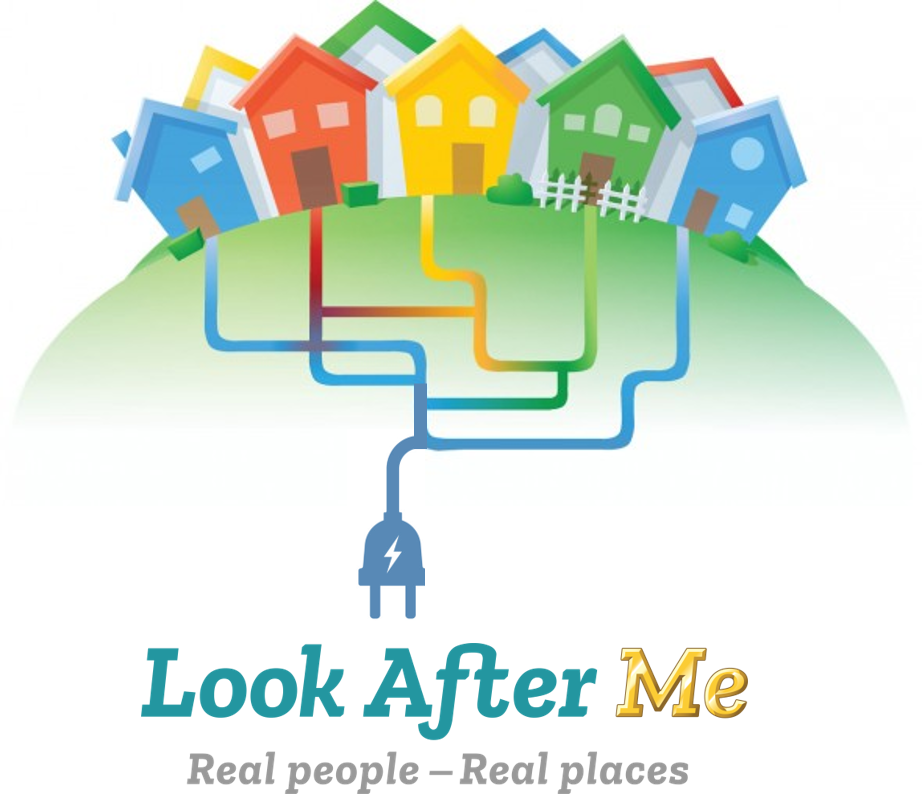 The clue is in our name.
Look After Me takes a wholistic view to looking after you, when you travel.
Here's how we look after people like you:
​Sense of belonging: choose accommodation based on your interests
Safe and supported: our Hosts adhere to our high safety, conduct and cleaning standards.
Looked after physically: sleep, food and hygiene (and decent coffee, excellent wine!)
Looked after emotionally: enjoyable, memorable experiences doing what you love. (With free helpful suggestions from locals who love their place!)
Our Nationwide support team: based here in NZ with our free 0800 number and friendly, knowledgeable staff.
The Look After Me Virtual Hotel means that all rooms and guest services operate under our unified brand and expected quality standards.
This means a certain level of cleanliness, customer service and professionalism in the way rooms and properties are managed. Much the same way as you would expect of all good hotels, like the Sudima or Hilton.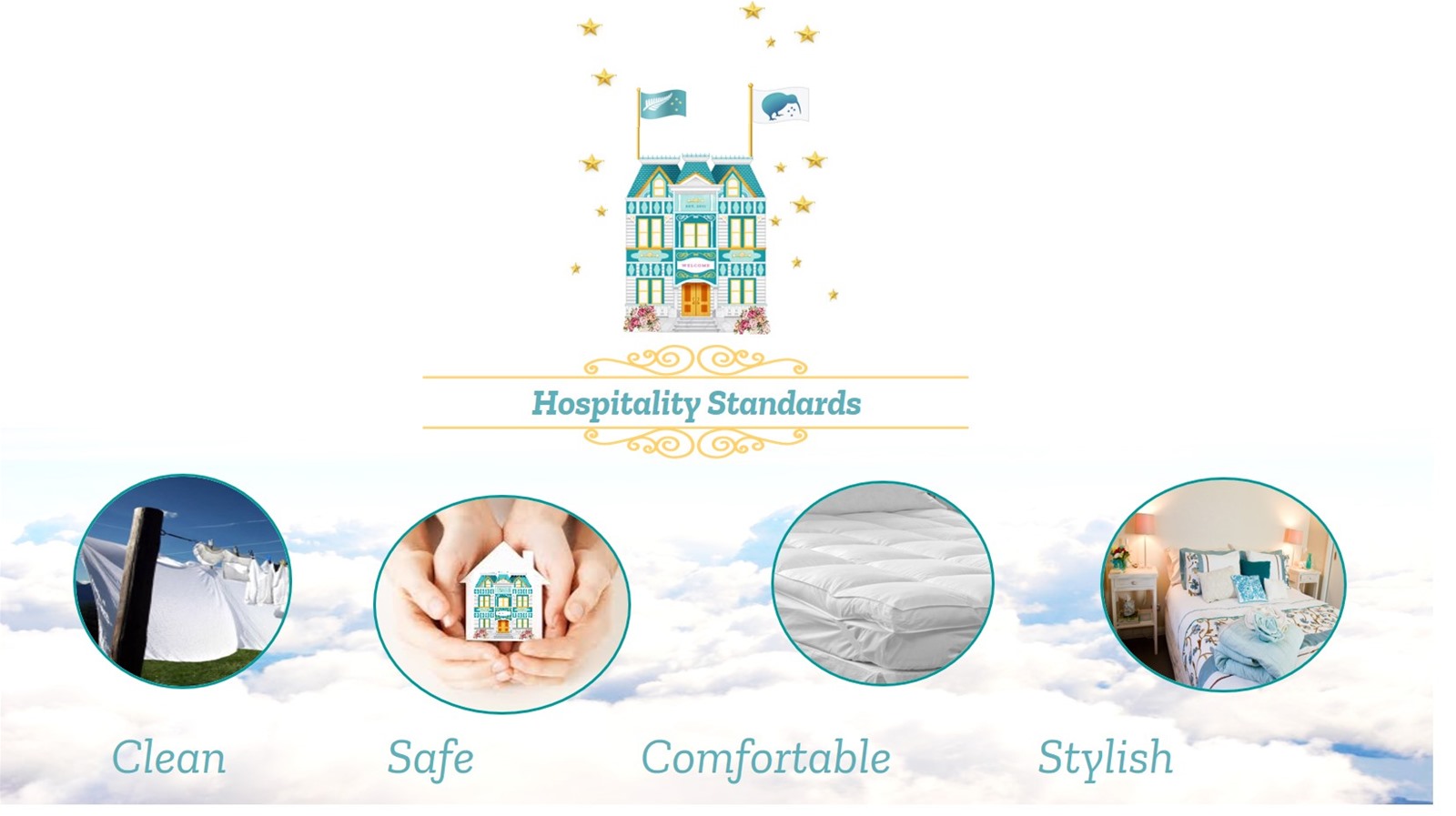 The advantage over a traditional hotel is that rooms/properties or guest services (like meals and attractions) can be added to suit the particular location to create rich, meaningful experiences for guests, hosted by knowledable locals, even in very remote locations.

New Zealanders are embracing home-sharing platforms
The home- or room-sharing phenomenum has been embraced and popularised by kiwis listing on AirBnB.
With the Sharing Economy now well proven, New Zealand already has a fantastic network of "Super" Hosts who might be looking to join a locally owned and operated network, to keep more of our money in New Zealand.
"We know this is a highly scalable model for sharing genuine hospitality amongst other kiwis at a time when many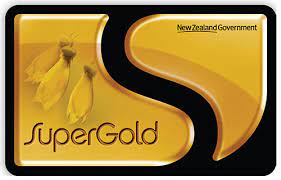 New Zealanders, including our "Super Gold Card holders are looking for alternative ways to legally earn additional income, or travel safely," says Julia.
Guests access the reception via a website where they can self-serve holidays based on their interests.
Currently there are rooms and experiences in beach, city, bush and lakeside locations all over New Zealand.
The Sharing Economy has already added one million of extra revenue in the Bay of Plenty to local home owners from 1 April 2020 - 31 March 2021.

More environmentally friendly: care for our people, our places and our planet.
The Virtual Hotel concept is also more environmentally friendly as it re-purposes unused accommodation in various locations, without the need for new infrastructure or pouring concrete for new builds - a known environmental pollutant.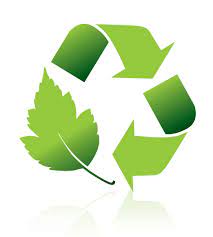 It is also more regenerative as it does not cost the planet non-renewable resources like fossil fuels which are expended on long-haul flights to overseas destinations.
With sustainability high on the agenda at TRENZ, Julia says "we as operators in New Zealand's Tourism Industry have been urged to design more regenerative tourism strategies - ones that are kinder to our people and planet."
"The Virtual Hotel makes it easier to find and book holidays and makes better use of the accommodation we already have."
As an organisation we are committed to the Tiaki Promise - the care code developed to empower Tourism Operators like us to look after our people, places and culture with respect.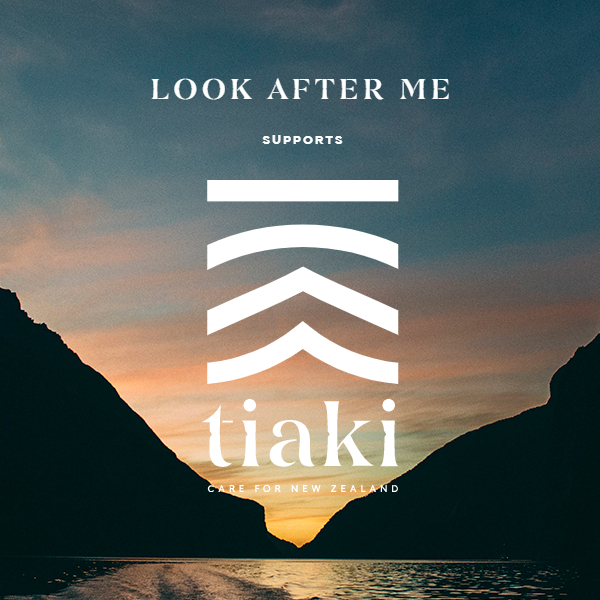 Watch this beautiful video to learn more about caring for New Zealand through the Tiaki Promise.
Or copy this link into your browswer: https://www.youtube.com/watch?v=BbTPvvlCLh4
Innovating quickly for a changing market place
Julia says innovation is the key to help New Zealand's Tourism Industry recover.
"A crisis like Covid-19, fuels innovation. To adjust quickly to new travel behaviour, we started by asking New Zealanders what they wanted and have done our best to build what they are looking for."
A national survey, undertaken as part of #HackTheCrisis, in April 2020, revealed that 74% of people wanted to drive to self-contained units, mostly as couples (41%) or singles (21%).
Buying behaviour before Covid-19, prioritised hotels, whereas afterwards, the number one preference is self-contained units, with holiday houses the second choice. Bed and breakfasts and luxury suites and lodges were also becoming more popular to cope with pent-up demand.
For this reason, Look After Me offers a range of room types to suit guests preference for comfort, safety and style.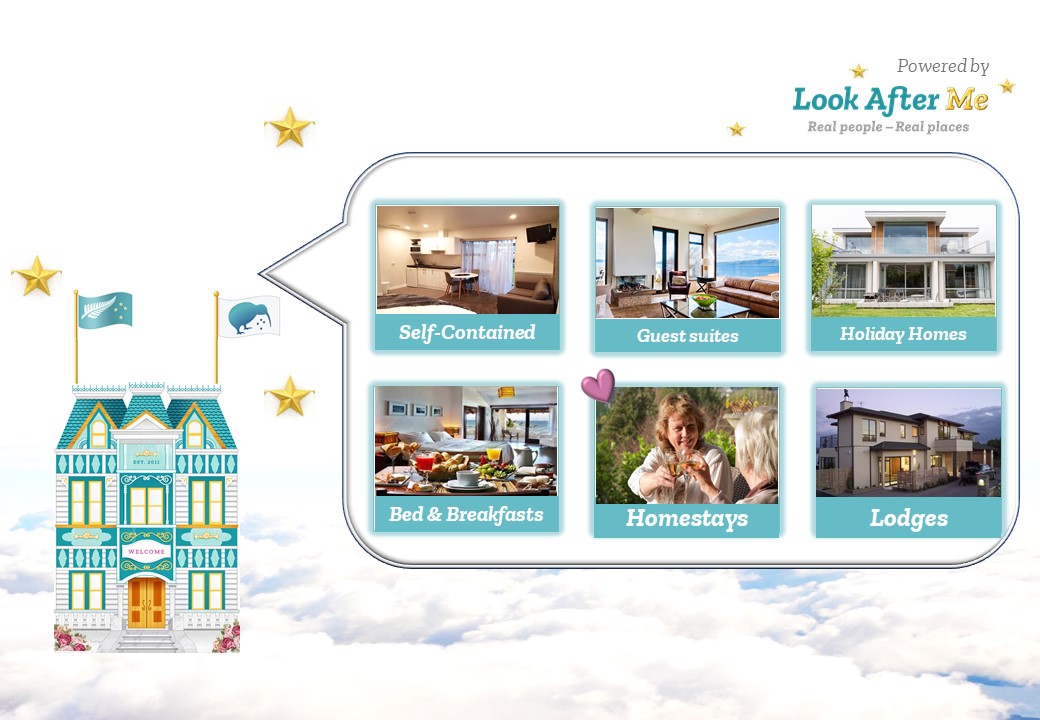 Image: The Look After Me Virtual Hotel offers a range of accommodation types all over New Zealand
Looking after guests with new travel behaviours
As the Tourism Industry recovers and New Zealand has joined a bubble with Australia and the Cook Islands, Look After Me has responded to the new wave of guests.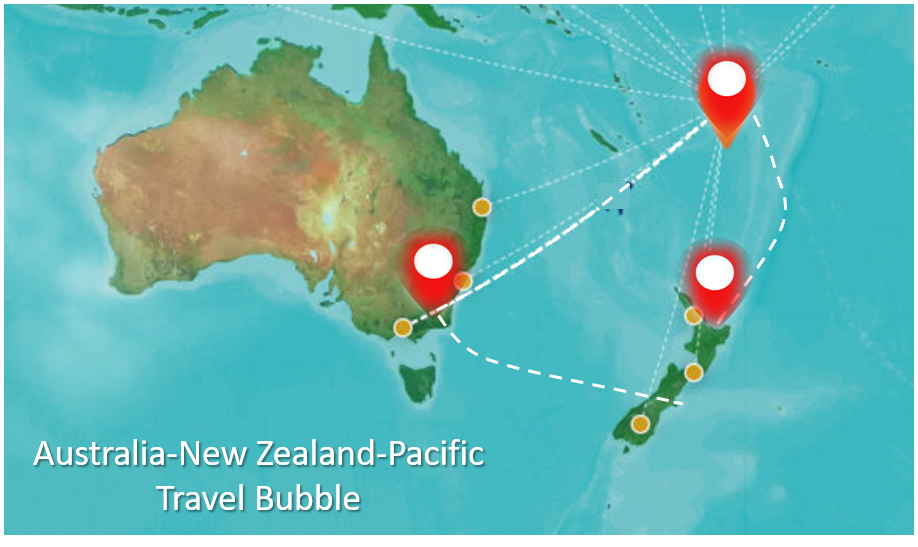 As international visitors return, The Virtual Hotel concept allows New Zealand to promote itself as a safe and friendly Covid-free haven, under a unified brand that resonates with the kind of cleanlines, care and consideration, guests need and expect.
87% of travel bookings are made by women
Julia said asking people how they relaxed on holiday had a major influence on designing the Virtual Hotel and their new range of travel packages.
"We know that about 87% of travel bookings are made by women."
"They need a break but don't have time to organise it, so searching and booking travel needed to be quick and easy."
The new Look After Me upgrade is designed to appeal to women aged 50 and over to enjoy some "me time" or for couples seeking romantic get-aways.
Fair, transparent pricing is important too - Look After Me checks all prices are fair and only receives a 10% commission (included in the price), when a confirmed booking is made, and guests have stayed.

Cleanliness was now the number one factor
We also asked people what was important to them, as they are considering travelling again.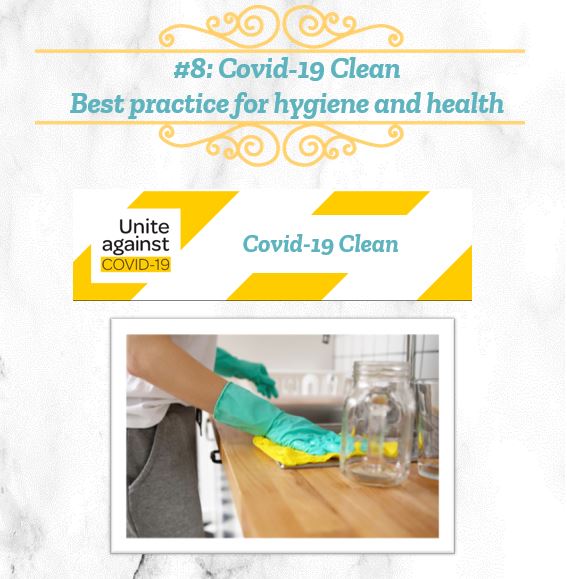 Cleanliness was now the number one factor that will influence guests buying decisions, nudging ahead of price.
Location, comfort and wi-fi were also considerations.
All Look After Me properties adhere to carefully documented Covid-19 cleaning practices.
You want 'self-serve' interest based holiday packages
The biggest surprise, was that 41% of people were 'definitely interested' in being shown deals based on their hobbies and interests. A further 50% were 'interested, or probably interested."
With a whopping 91% of people in favour of this idea, this is a new travel trend that can help rejuvenate the industry.
Julia says that their goal was to build a platform that made it quick and easy to indentify potential places to go on holiday to enjoy your favourite activities.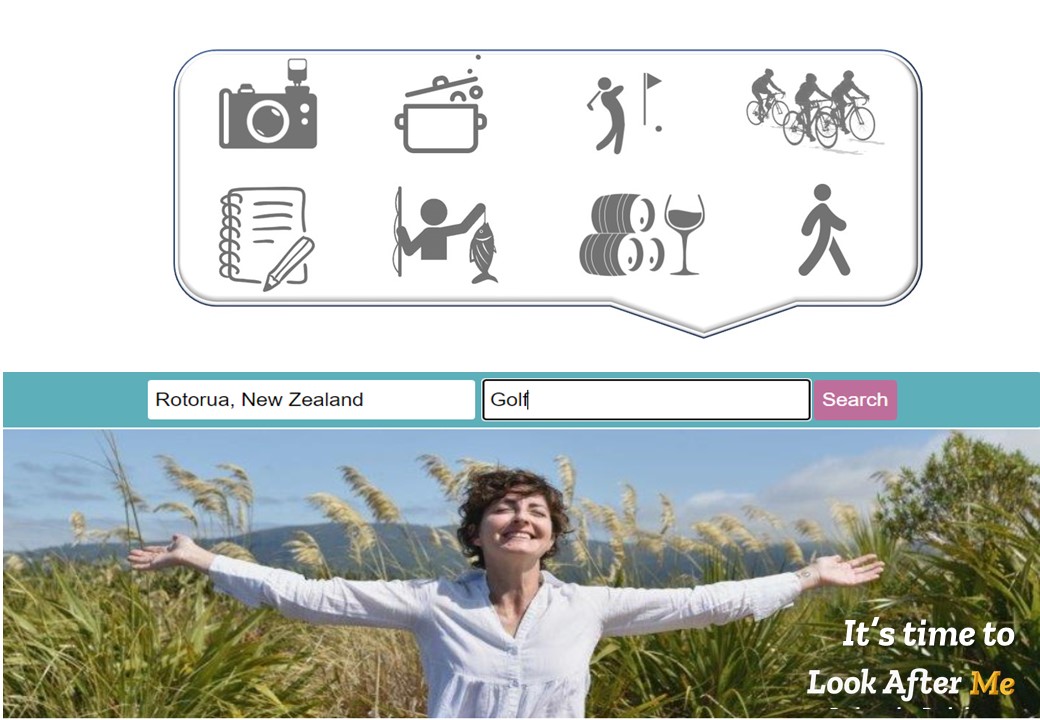 Read more about the customer survey.
Easy-to-create experiences for Hosts. Easy for guests to browse, book and pay
The new Virtual Hotel platform allows homeowners to list themed-rooms, multiple properties or package deals based on their own local knowledge and personal interests.
Look After Me hosts are also a a trusted source of local information.

Using our software, they can become a mini-i-site, or local information centre.
Hosts can upsell attractions and activities that the guests might enjoy, while earning 5% commission.
This brings authencity to every experience and location, as they are managed by caring locals with a pride in their place.
"We've included a search box so guests can be easily matched with accommodation and quality local knowledge based on their interests."

A fairer financial model for the Shared Access Economy
Financially it may help the New Zealand tourism industry recover by sharing wealth around New Zealand communities in a fair, transparent and regulated way, with local hosts and attractions receiving 90% of all guest revenue. The other 10% is a commission that helps fund the Look After Me Software suite and staff.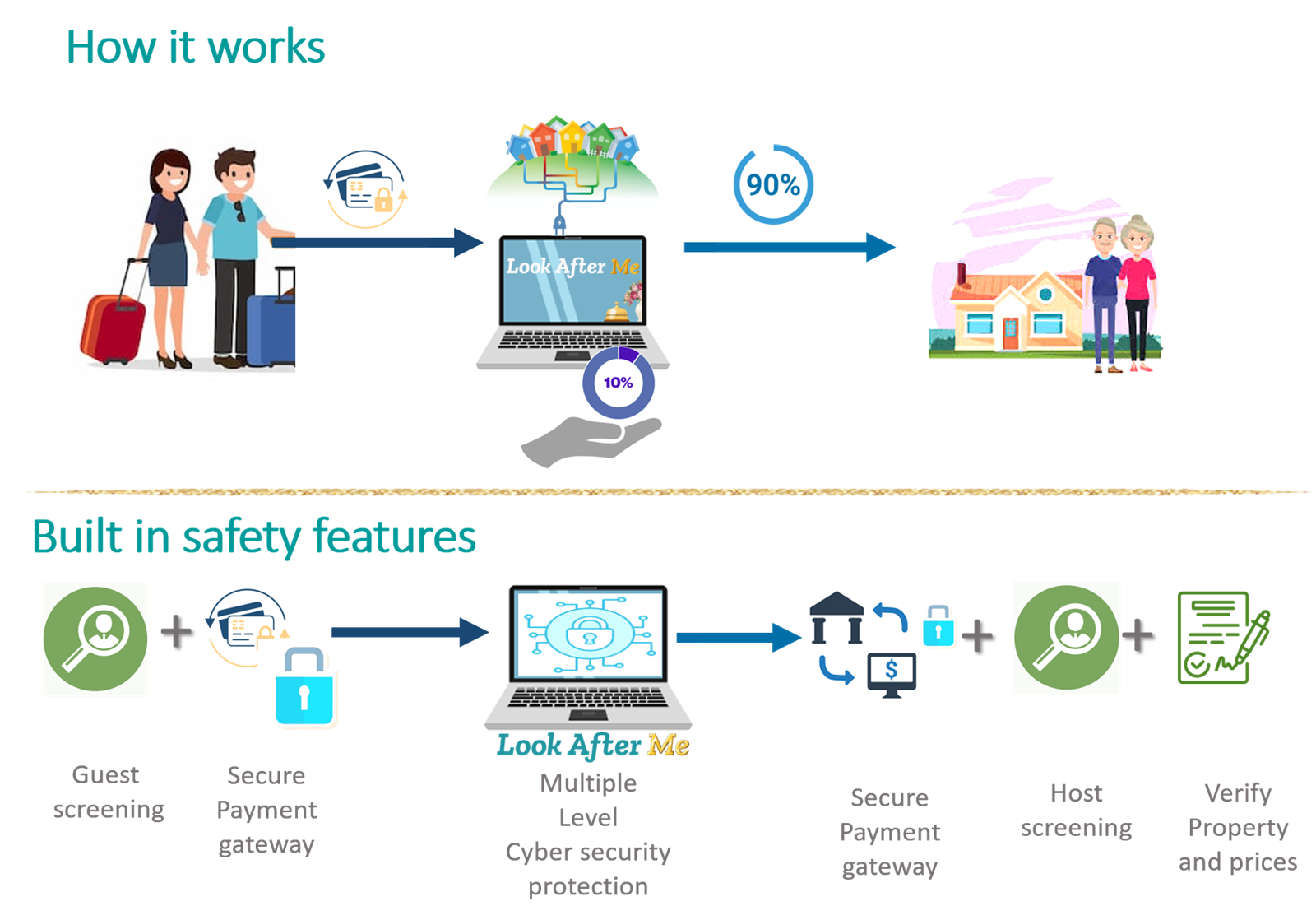 Most people living or visiting in New Zealand are happy (and grateful) to be able to self-drive to enjoy experiences and feel good knowing they are contributing socially and financially to kiwi hosts in our local communites.
Rising above the competition
Mentor to Look After Me, Mark Taylor, GM Information Technology, Tourism Holdings Limited said "I see an opportunity for this business to compete in the marketplace, based on the basis of a unique Kiwi proposition targeted around shared interests."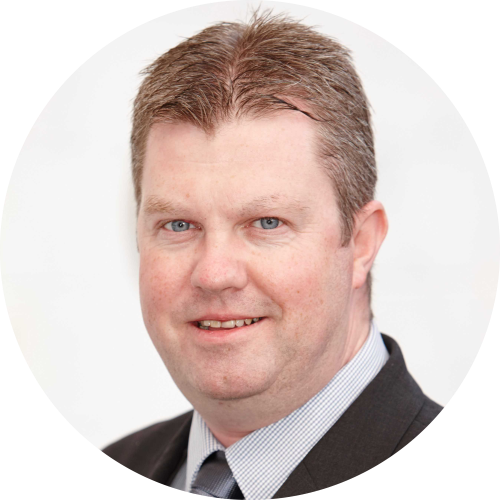 Colin MacPhee, now co-Director for Look After Me Ltd agrees that Interest-based experiences offers guests a new way for guests to travel safely in small groups as borders re-open.
"From a business point of view, this "bubble-to-bubble" concept is a unique way that Look After Me can rise above the competitive On-Line Travel Agent (OTA) landscape and genuinely look after people as they chose to travel again."
The majority of respondents (89%) felt "very strongly" about spending money with New Zealand owned and operated companies with only 9% having no preference.
No one wanted to book accommodation managed or commissioned by overseas companies like Expedia, Booking.com, AirBnB or Wotif. There were several comments expressing very strong views about leveling the playing field in the tourism industry and perhaps it was time to discourage use of On-Line Travel aggregators to help keep money in the economy.
For this reason, Look After Me developed two new flags for the Virtual Hotel imagery.
One is a kiwi bird, positioned over the four stars of the Southern Cross. The other is the Silver Fern insignia. This gives Look After Me a uniquely New Zealand brand that will be recognised off-shore.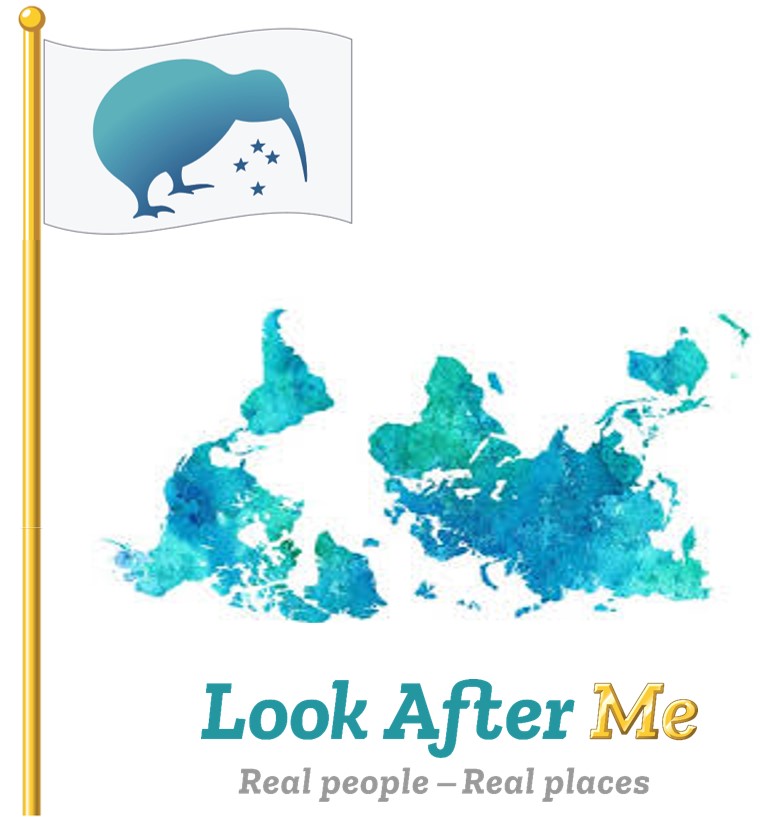 ImageTop right: Co-Director and Look After Me cornerstone investor, Colin MacPhee
Image: Centre: Look After Me is poised to scale off-shore - initially to NZ passport holders to offer kiwi hospitality world-wide under a unified brand, conduct and standards
Colin said the Virtual Hotel concept was only available in New Zealand right now but the enterprise level software and payment gateways were global ready, once Look After Me had identified the right off-shore partners.
"If this distributed accommodation Network were to scale internationally - it could grow revenues to New Zealand's Tourism Industry and showcase our Kiwi Hospitality brand offshore, without relying on foot traffic or waiting for international borders to re-open," he said.
Look After Me is considering Sydney as their first overseas port, as they seek to scale Look After Me internationally.
In the near future, the Virtual Hotel will allow New Zealand Passport Holders living off-shore to promote thier own version of kiwi hospitality, rooms, properties or experiences.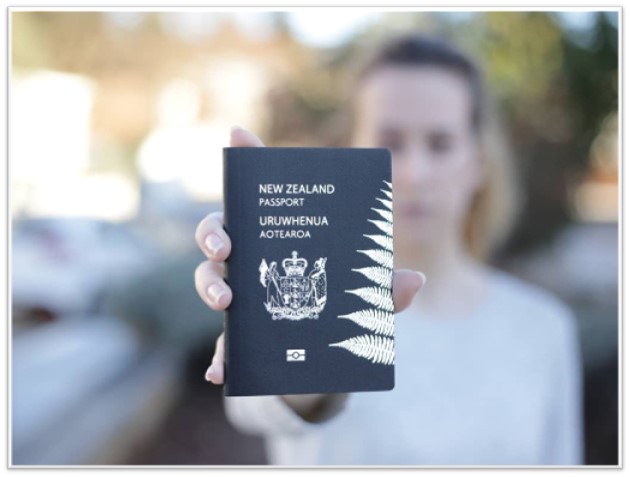 "We love the idea that certified kiwis could offer really enjoyable experiences from where-ever they live in the world - Sydney, San Francisco, London or Amsterdam.
"As the world opens up, New Zealand is poised to fully engage and lead new financial models to make the emerging Shared Access Economy, fairer for everyone," said Colin.
Now that Mark V is launched and operational, Look After Me has opened a Seed Round Fund to raise capital for domestic and global expansion.
Email Managing Director, Julia Anne to express an Interest in this investment opportunity or read more About Us.
Clean, safe and comfortable options for women travelling solo
Global trends indicate that more women are experimenting with travelling by themselves.
We think this is a good thing and want to make them feel safe and comfortable, if they chose to travel by themselves.
"Looking after holidaying women is not all about high heels, shopping and manicures," says Julia, "but of course, it can be!"
"Kiwi and Australian women love being outdoors and exploring our incredible landscapes."
"As pent-up travel energy returns and stress levels rise, we've noticed women (myself included), wanting to reconnect with nature, waterfalls, hot water and be in very serene and peaceful places.

Image: Enjoy some "me time". Look after mind, body and soul to restore and revitalise.
Our job is to make sure the accommodation is clean, safe and comfortable, well managed and easy to book - especially for solo travellers," says Julia.

Is it time for some "me" time?
Kiwis and Australians have always been a bit adventurous but as people age or stress-levels rise, activities with less physical strain are also appealing.
Spending some "me time" walking or cycling in New Zealand forests and lakes are idyllic for stress relief and restorative balance.
Our beautiful, natural landscapes are a labarynth of rivers, lakes and trails, just waiting for exploration.
And our local New Zealand wines are excellent.
Our guests are very open to try new "soft-adventure" experiences like forest bathing, or simply by moving their normal yoga and/or meditation practices outside in a beautiful place, while on holiday.
Julia says "it's important for women to commit some "me-time" to help relieve the additional stress that has naturally built up, as we coped with adjusting our lives through our first global pandemic.
We learned from the Tourism Futures Research Report how important it is to shape tourism as a "wellbeing industry". We are encourage self-care and taking personal responsibility for wellbeing.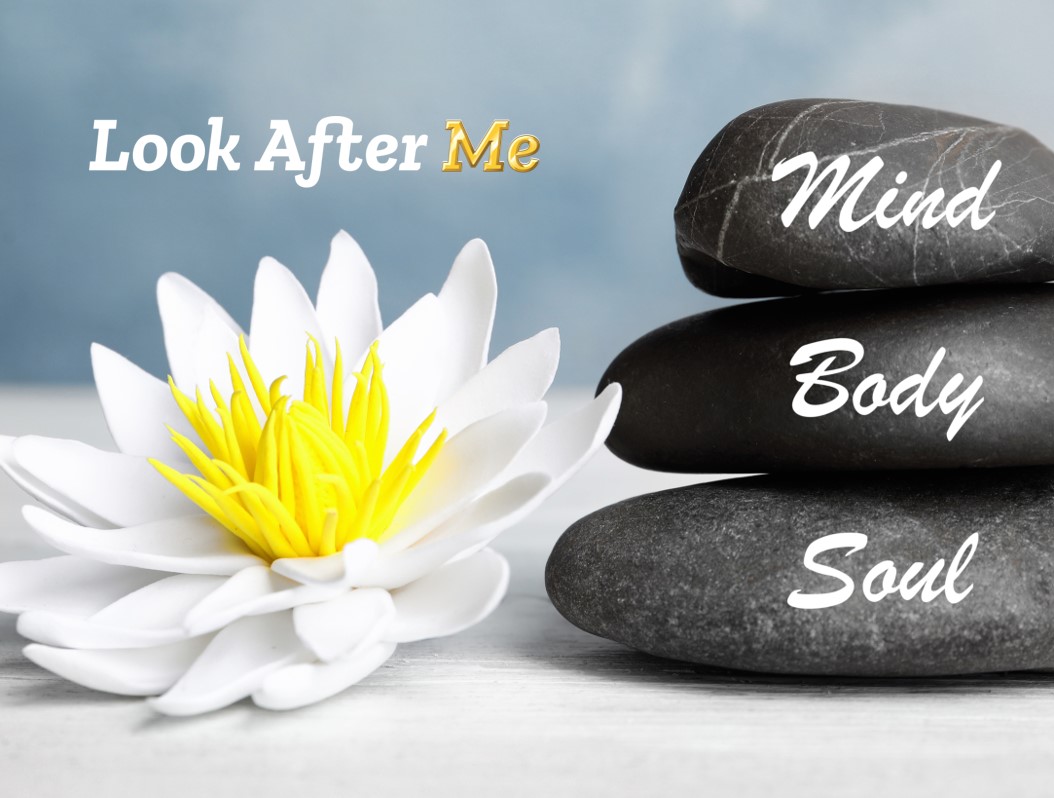 The new Virtual Hotel can provide a safe haven, as travellers return to New Zealand, or in the future help NZers off-shore look after people from where-ever they live.
"We have a duty of care to look after people and natually travellers may feel quite vulnerable.
All Hosts are checked and vetted
All Look After Me properties are operated by approved Hosts with proven experience in the hospitality industry and vetted for legitimacy to operate and fair prices.
Look After Me prefers to use QualMark approved Bed and Breakfasts, homestays, AirBnB SuperHosts or luxury guest suites, as we know they are the safest and most fully compliant to Industry standards and customer expectations.

New Zealanders are genuinely hospitable and deserve their number one status for how they treat visitors.
"Our Hosts are delightful - they love dreaming up nice treats for their guests - a surprise complimentary bottle of local wine or some fresh baked cookies, fruit and vegetables," says Julia.
There are many reasons why kiwis offer to host guests.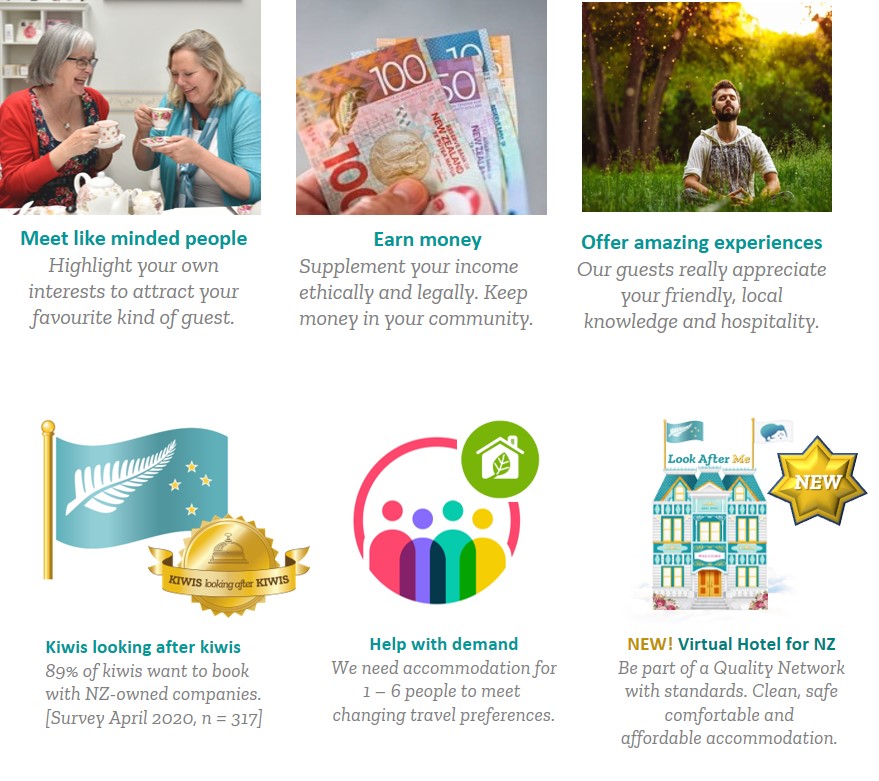 Click More Info to find out about Hosting
Introducing The NEW New Zealand
We love Tourism New Zealand's campaign encouraging people to do something new when they travel. It's been great to have a strong framework upon which to hang really good marketing campaigns. (Thank you TNZ team!)
The world has been turned sideways with Covid-19 and understandably, many people are concerned about travelling again.
Look After Me wants kiwis and overseas guests to take a fresh look at the "NEW" New Zealand, by looking at our country differently.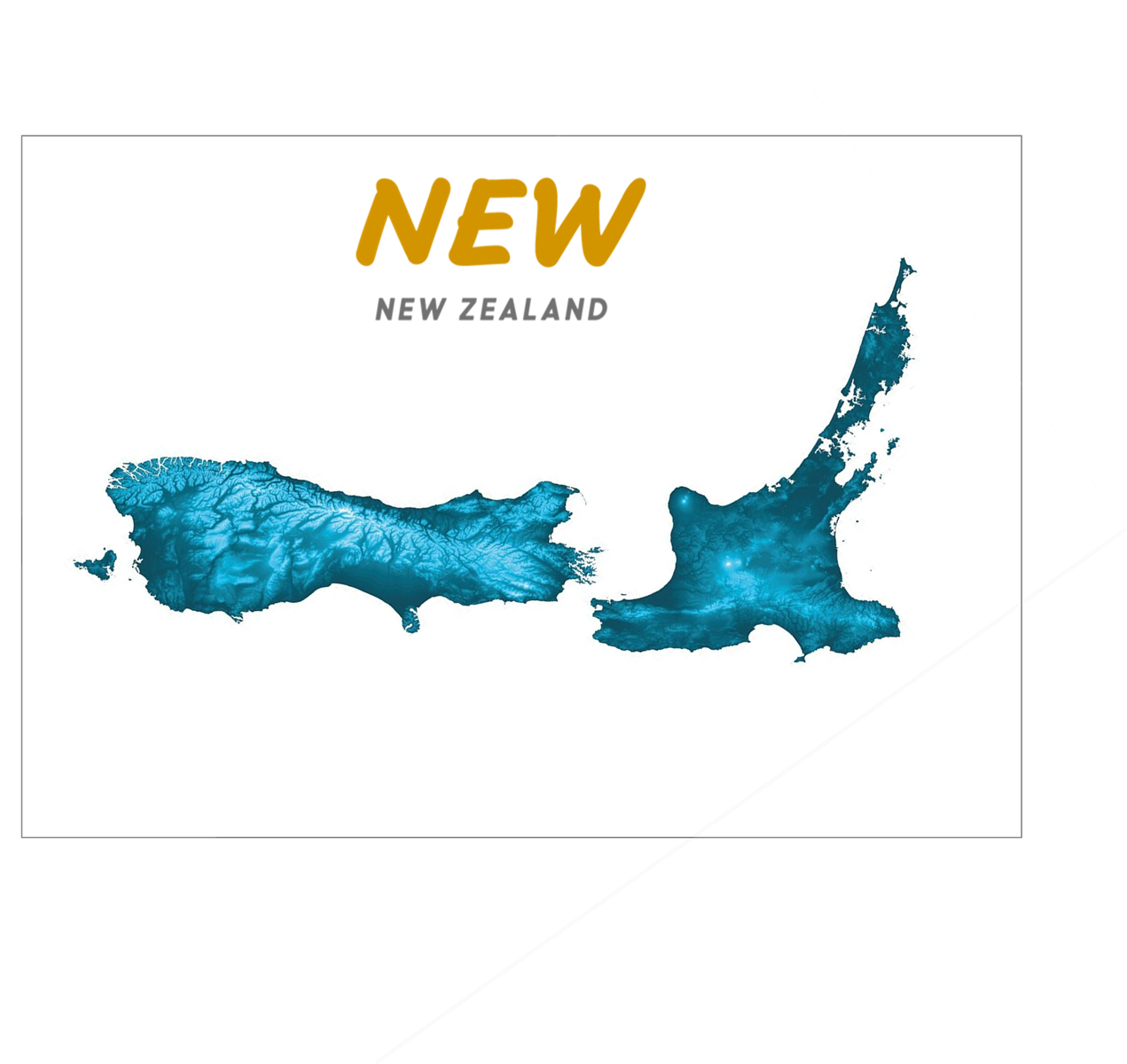 Let's embrace our small pacific nation with fresh pride as we open up our borders to international guests needing some respite.
To help people make easier decisions about where to go in New Zealand, Look After Me has started creating a couple of collections, based on interests.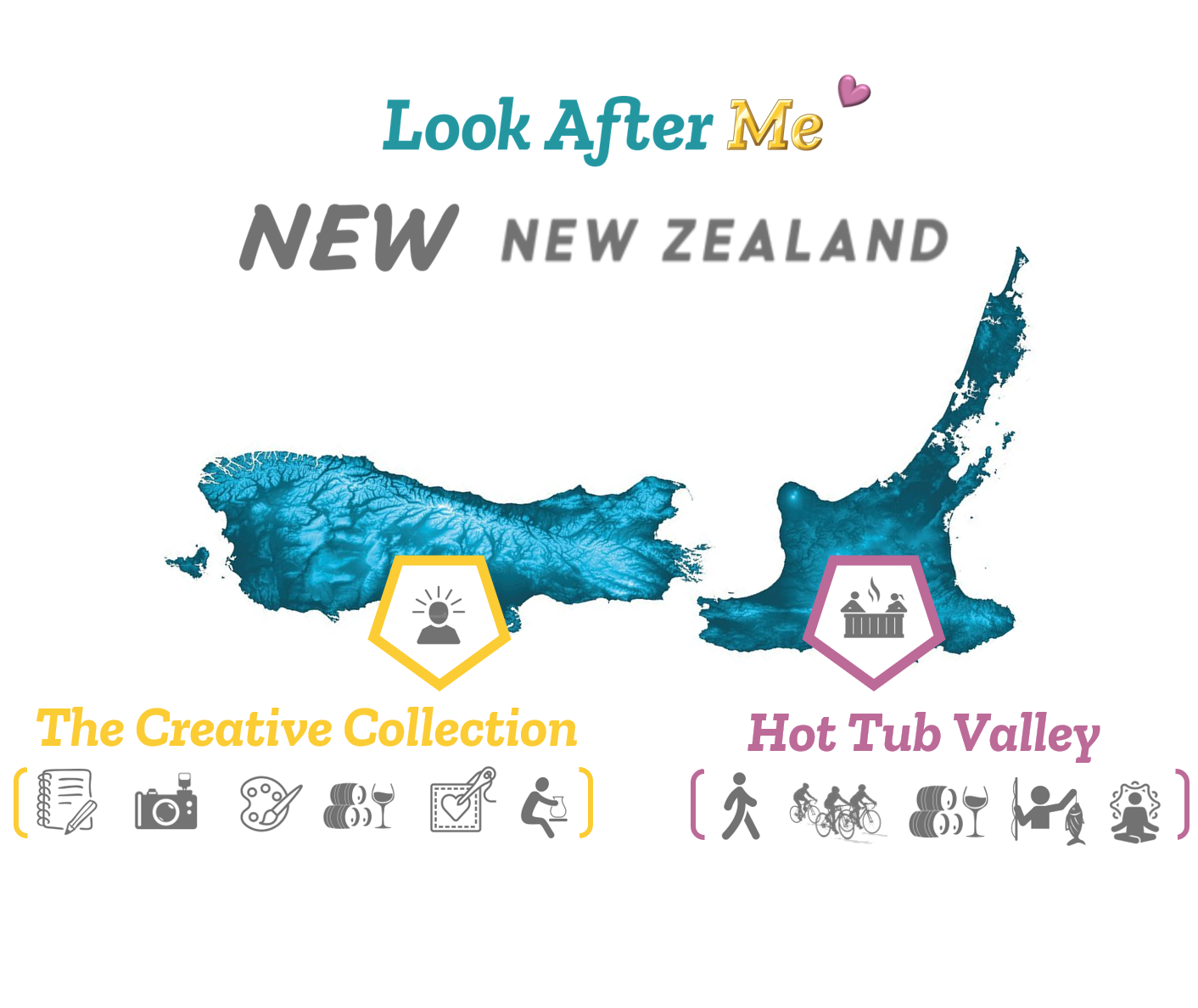 NEW FOR THE NORTH ISLAND: Introducing the Hot Tub Valley Collection
To help promote health and wellbeing - Look After Me is building a collection of soothing experiences in 'Hot Tub Valley' in the North Island.
Designed for guests who need to take their self-care seriously or want to get away as a couple, the Hot Tub Valley collection are self-contained units, suites, holiday houses or lodges with a spa, hot tub paired with very clean and safe accommodation.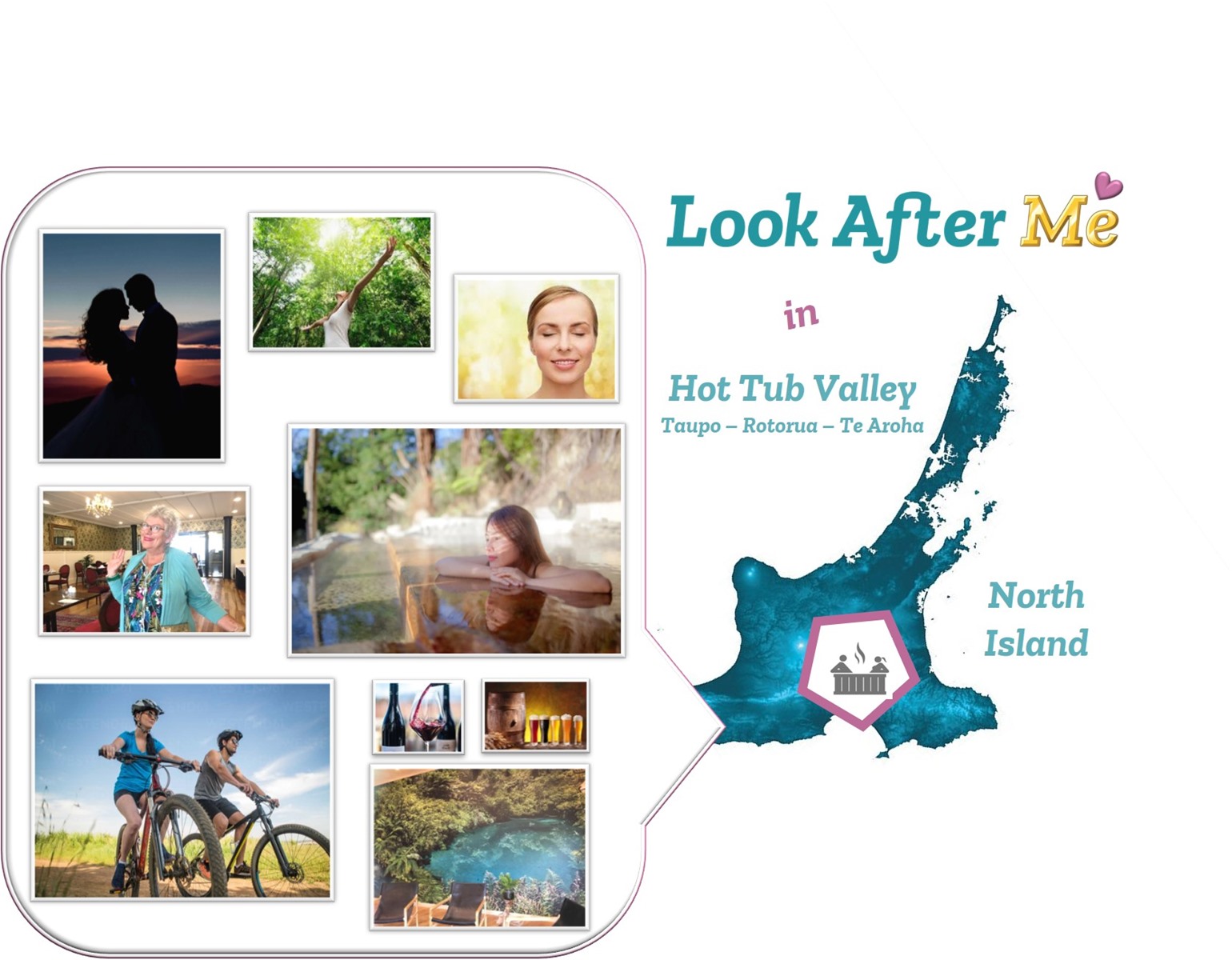 The central North Island is an idyllic backdrop for the Hot Tub Valley, well known for magnficent forests, mesmerising lakes and labyrinths of walking and cycling trails.
Singles, couples and double couples can lake or forest hop their way around the Hot Tub Valley - visiting Rotorua, Taupo, Te Aroha or selected Hot Tub locations in Waikato.
Access is via an international flight into Auckland, and then 2 - 3 hour drive south-east.
The Hot Tub Valley offers easy self-drive options from Napier and Hamilton or Air New Zealand has direct flights into Rotorua from Christchurch or Wellington.
Here's a few Hot Tub Valley favourites - just waiting to look after you....
Popular with Aucklanders!
Escape to a spa pool over-looking Lake Karapiro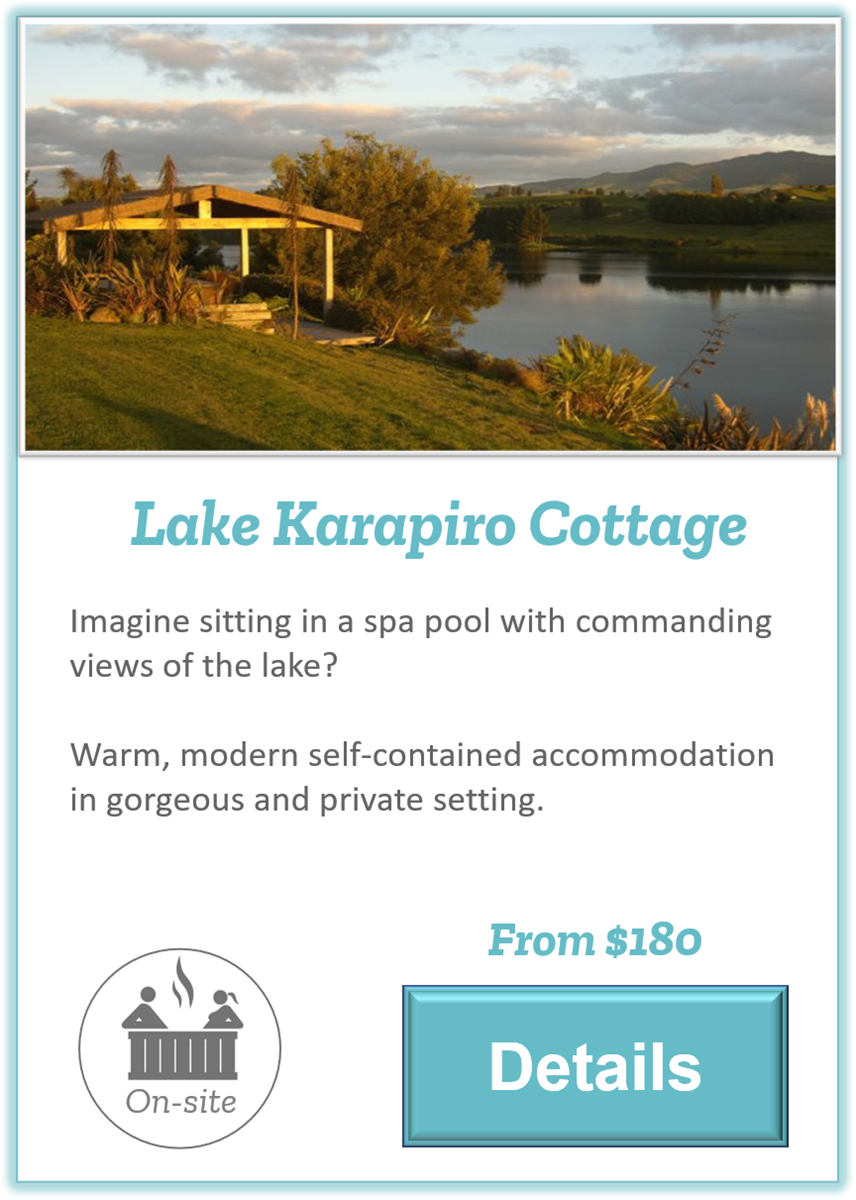 Lake Karapiro Cottage is one of the properties included in the "Hot Tub Valley" collection.
Visitors are able to relax and soak up the quiet rural environment enjoying fantastic panoramic views from the spa pool (see picture).
Hosts Jill and Adrian joined the Look After Me network as hosts in 2012 and offer a private, modern, self contained unit with a spa pool nestled on the edge of Lake Karapiro.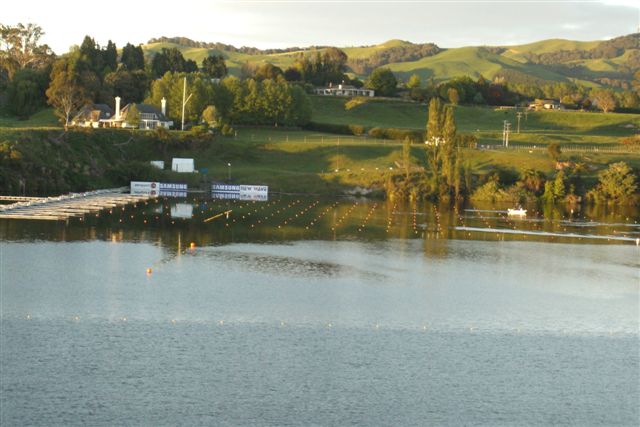 A cruisy two hour drive South from Auckland, this is ideal for kiwis or Australians re-discovering New Zealand and needing to re-charge.
It's only minutes away from vibrant Cambridge and the quirky shopping town of Tirau, so supplies, decent coffee, good supermarkets and entertainment are nearby if required.
Jill said she chose to list exclusively with Look After Me as it reflects their desire to host people looking for a non commercial stay in a safe environment.
"People really seem to appreciate what we offer," she says."
Guests just love the panoramic views from the spa pool."
Lake Karapiro Cottage is popular all year around as even in the summer, nights can be cool enough to enjoy the comfort and sanctuary of the Hot Tub.
It is a beautiful place for couples to reconnect and catch their breath, after a rather harrowing 2020/2021.
Guests can experience complete privacy of a self-contained unit to call home for a few days or more.
"It is a pleasure to share our piece of paradise with you," says Jill.
Find out when Lake Karapiro cottage is available.

NEW FOR THE SOUTH ISLAND: Introducing The Creative Collection
In the South Island, Look After Me is developing 'The Creative Collection - another collection of holiday options for creative people like artists, writers, potters and hand-work crafters of all kinds.
Julia, who has road-tripped extensively in New Zealand for at least 30 years, was inspired to create the collection, noticing that there are thousands of highly creative, inspired people living all over the South Island but particularly along the East Coast - from Catlins to Kaikoura.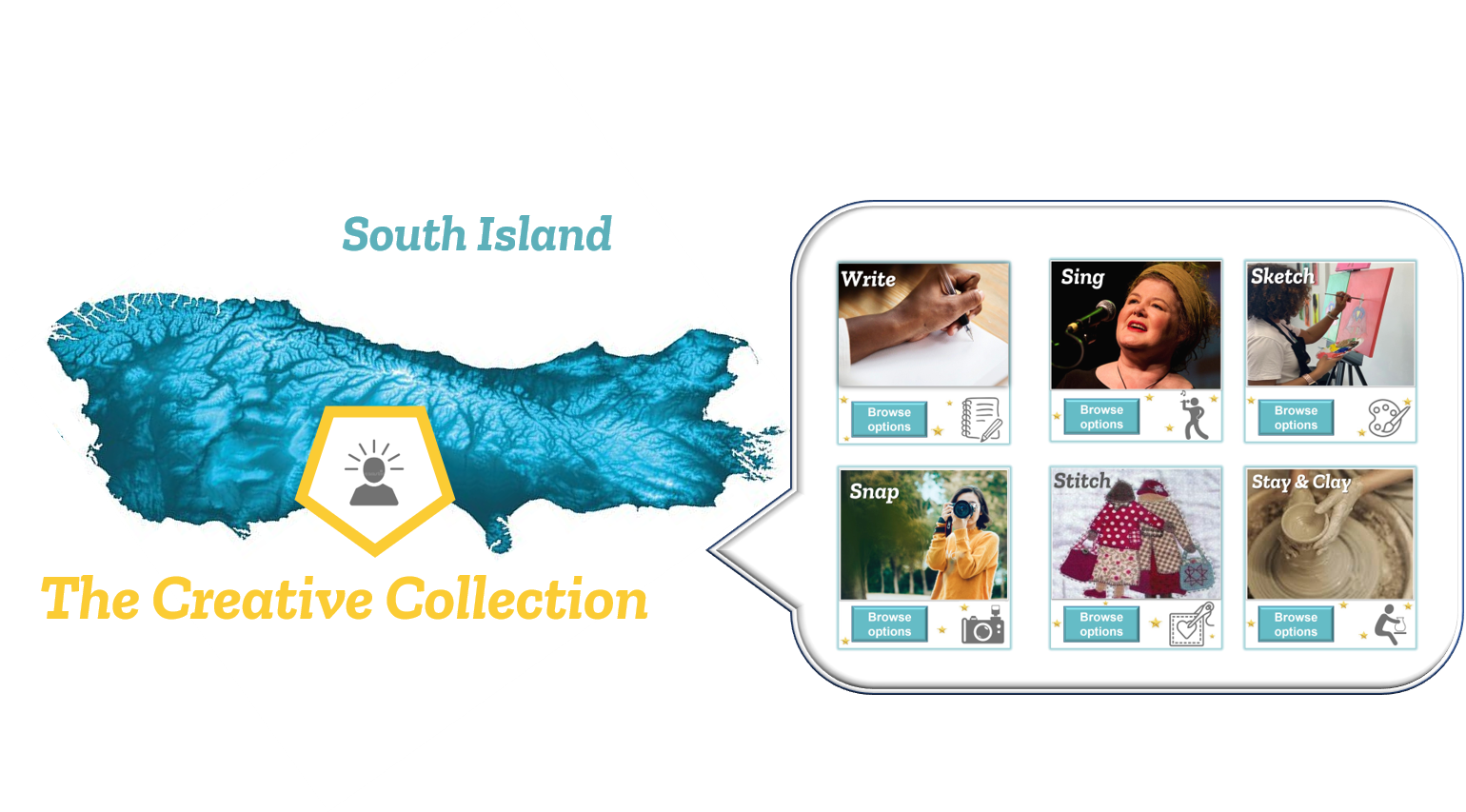 With the re-surgence and re-acceptance of creative handcrafts during Covid-19 lockdowns, those with creative flair, living anywhere along the Creative Coastline can earn money from home by hosting guests and optionally including one-to-one workshops, makers sessions or personalised tours.
The Creative Collection offers a smorgesboard of creative packages like "Stay and Clay", Wee Write Inns, PatchWork Quilters and Heart with Art (for example) from mid-range deals to high-end packages.
International access to the Creative Collection is via international airports in Christchurch and Dunedin.
Both cities were also creative hotspots with stunning collections of Street Art and local councils committed to supporting creative endevours.
Dunedin is New Zealand's only city of Literature and Christchurch has re-emerged after the Christchurch earthquakes as a trendy, creative arts hub.
Here's a few Creative Options just waiting to look after you....
...in Christchurch
...and in Dunedin
Funding and team work - acknowledgements
This latest software upgrade has taken about eight years, hundreds of people, thousands of hours to build - so like any big, long-term project there are many people to thank.
Look After Me would like to acknowledge funding support from our 12 NZ-based Shareholder Investors and their sage governance and wisdom. Especially seed-fund investors Rex Gillman, Phillip Wilcox, Guna Mageson and Lois Connelly.
Look After Me has been supported by the entrepreneurial communities of RotoruaX, Enterprise Angels (Tauranga), Creative HQ and Start-Up Dunedin as well as advisors from all over the Tourism Industry.
In 2019, Rotorua-based Angel Investor and Tourism Entrepreneur Colin MacPhee joined as Director and corner-stone Investor.
Colin funded a team to consolidate the Virtual Hotel framework, upgrade all of the software and impliment hotel-like quality standards.
The core software infrastructure for the Virtual Hotel was originally developed in 2012 by Andrew Bartle from Pureweb and upgraded by Dot. Exe Software (formally Base2Software) to ensure Look After Me can scale with enterprise level, global ready software.
The Dot. Exe team developed software that makes it easy for hosts to add self-contained units, holiday houses, bed and breakfasts and luxury suites.
The Virtual Hotel runs Microsoft Azure to ensure real-time bookings, google maps for accurate locations and the Stripe Payment Gateway for secure financial transactions. This is working in New Zealand but globally scalable.
Gareth Beesley, CEO, from Dot. Exe Software says "working with the team of experts at Look After Me, one light shines through – they know what they are doing!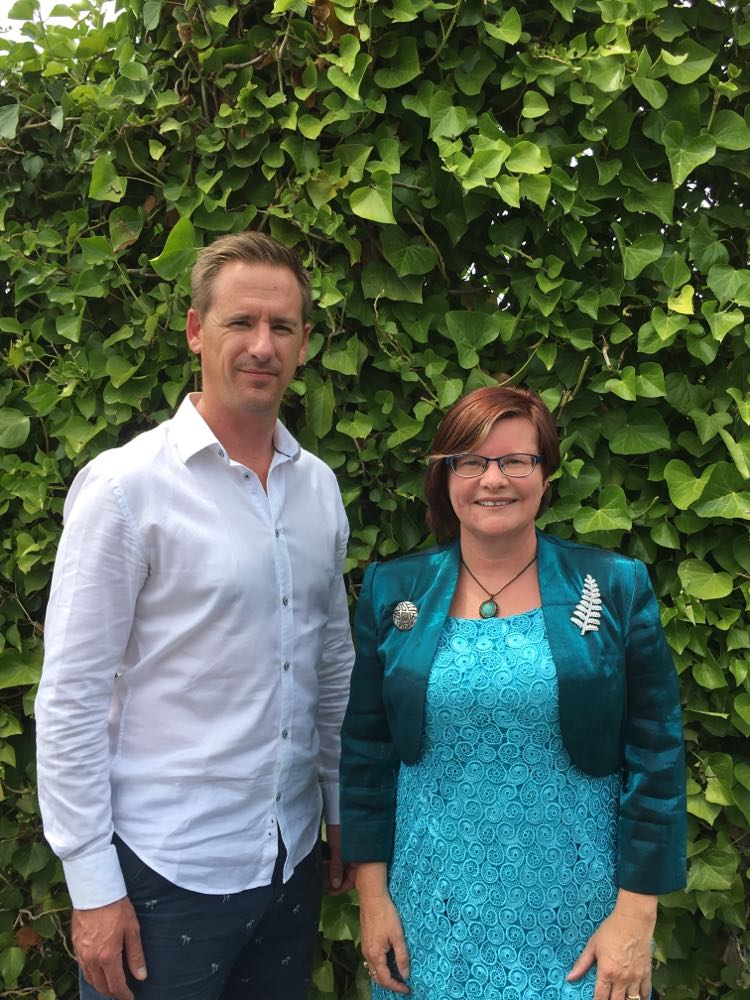 Image: Gareth Beesley, CEO, from Dot. Exe Software with Look After Me Managing Director Julia Anne
"We were able to prototype and deploy high value products based on this very specific industry expertise."
"Hats off to Julia for relentlessly pursuing and achieving her goals through one of history's most challenging times," said Gareth.
Over the years, and all through Covid-19 lockdown, Look After Me contracted a team of designers, creatives and tourism marketing expertise, mostly accessing talent as and when needed, on a "contract from anywhere basis," to keep overheads lean, the workforce engaged and the project on track.
On behalf of Look After Me, Julia would like to thank the hundreds of people involved in helping build New Zealand's first Virtual Hotel project.
"It's always been a 'by the people, for the people' idea' and launching this upgrade is about knowing it finally works as first imagined, all those years ago.
To be honest, if I've known this project would consume nearly a decade and take hundreds of people, thousands of hours to build, I doubt I would have ever attempted it," says Julia...but now, more than ever, the world needs a trusted network of very clean, self-contained units managed to hygeine and safety standards, so we were highly motivated."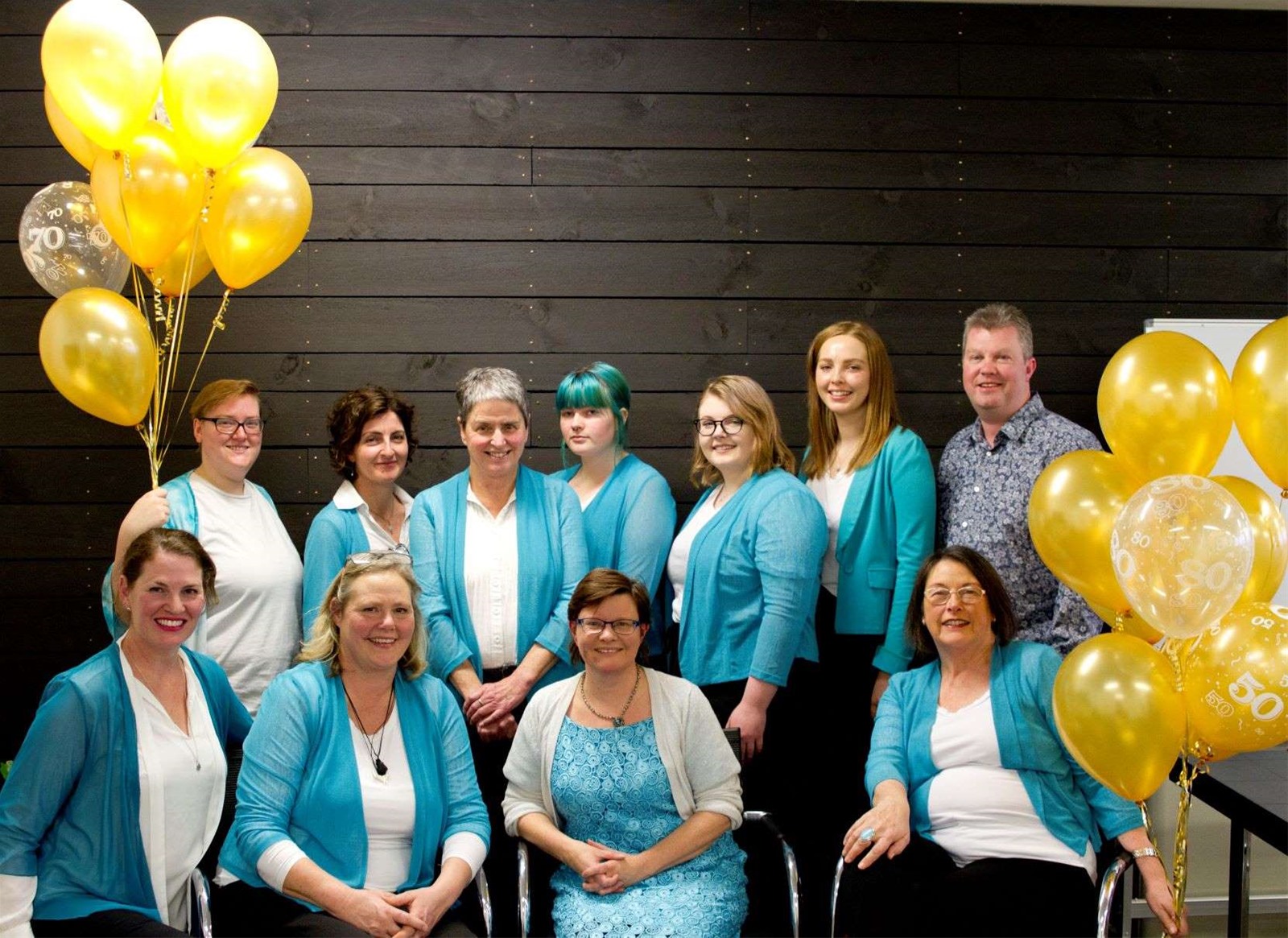 Image: A few of the Look After Me team of designers, writers, creatives and customer care who designed and developed the Look After Me Virtual Hotel concept. Directors are Colin MacPhee (top right) and Julia Anne (centre). New Zealand's first Virtual Hotel was built by over 200 people, over a period of nearly 10 years.
Official Virtual Hotel Upgrade: timed to honour The Mothers of the Nation
Dispite numerous challenges along the way, Dr Anne says she is proud of the team's tenacity and perseverance to launch the new software suite that supports the Virtual Hotel.
It is timely we launched at TRENZ, New Zealand's major Tourism Expo, in hometown Christchurch.
It's also appropriate to launch in the lead up to Mother's Day," says Julia.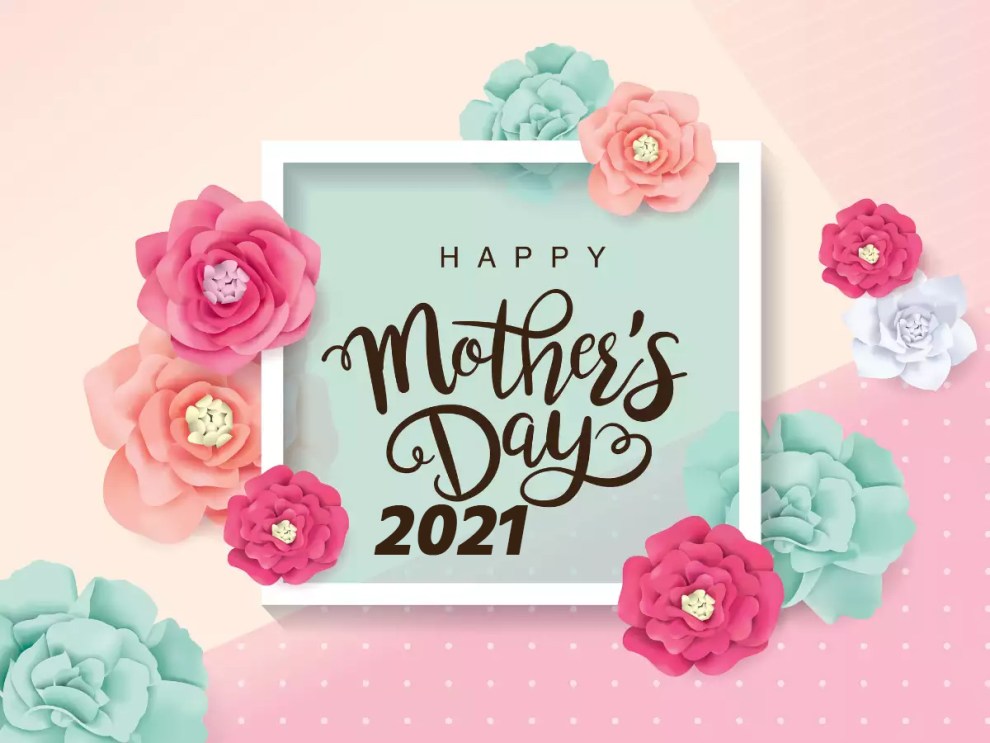 "Once I saw Hilary Barry, our unofficial 'Mother of the Nation' was our MC at TRENZ in Christchurch, it just felt like perfect timing.
But then I thought, why celebrate just one mother of the nation, when in reality there are millions of us," said Julia.
"There are already thousands of tourism operators catering for the needs of kids, teenagers and adrenilin junkies, whereas the Look After Me network is designed especially, but not exclusively for women, couples and small friend/family groups, some of whom might be mums needing some "Me-Time" or couple time."
As we head into autumn and winter we want to make sure we look after "the mothers of the nation, who might be looking forward to a break,to re-charge.
"It's humbling to be in home-town Christchurch to honour and celebrate the incredible work New Zealand mother's do and have done throughout this crisis."
Thanks to my own Mum, Lois!
As we launch Mark V of Look After Me with this major software upgrade, Julia would especially like to honour, thank and celebrate her own mother, Lois Connelly who has supported the Look After Me dream from the idea's inception.

Image: Lois Connelly with celebrity actress Rebecca Gibney, her grand-daugher Alice and on her 70th birthday celebration
Lois has worked as a Business Administrator and has co-developed the Host Care Programme, for Look After Me. Incredibly, Lois has worked for nearly ten years, for her daughter Julia, without any expectation of payment.
"My Mum has been both a sounding board and a driving force behind Look After Me. As a retiring woman, she was really able to contribute tremendous value in understanding our ideal customers. Lois has influenced all aspects of the business," says Julia.
"We could not have done this without her. So cheers, thank you and Happy Mother's Day, Mum and to all the other "mothers-of-the-nation".
"This is not about being selfish - sometimes, it really is time, to look after me," says Julia.
Free Sign up for Hosts - more accommodation needed
We are actively looking for self-contained units, holiday houses, bed and breakfasts and homestay to join our network.
It is free for homeowners to list accommodation.
All rooms are vetted for safety, comfort and price.
We only get paid a fair and transparent 10% commission for successful bookings and guest experiences delivered.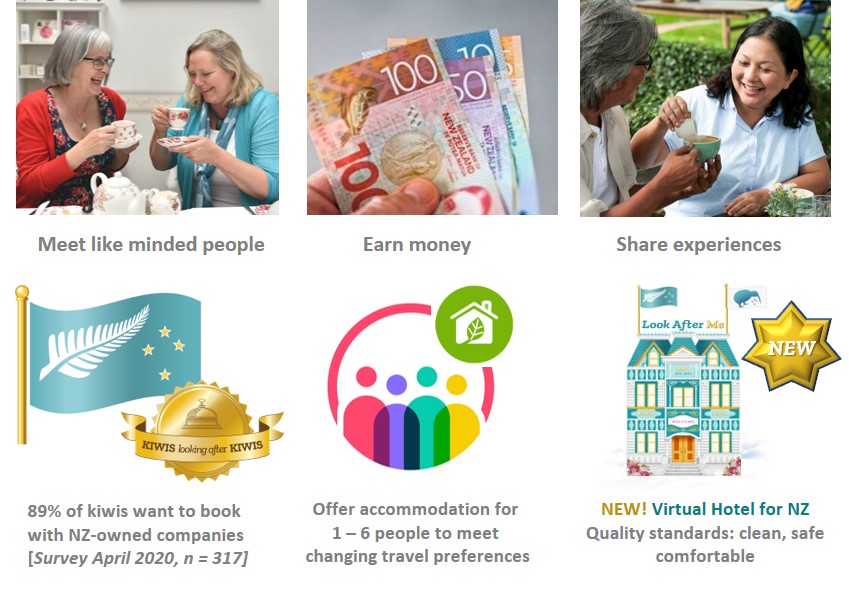 Click More Info to find out about Hosting
No surprise cleaning fees or booking Fees for guests
You told us you hated being suprised with cleaning fees and booking fees, so all prices include cleaning and booking fees.
A warm welcome awaits. Browse accommodation via your favourite interest.

#TRENZHui21 #Tiakichampion