The Idea

Mornington Villa hosts David (seated) and Barbara (with wine) serving guests in Dunedin.
The idea is simple - it's kiwis looking after visiting guests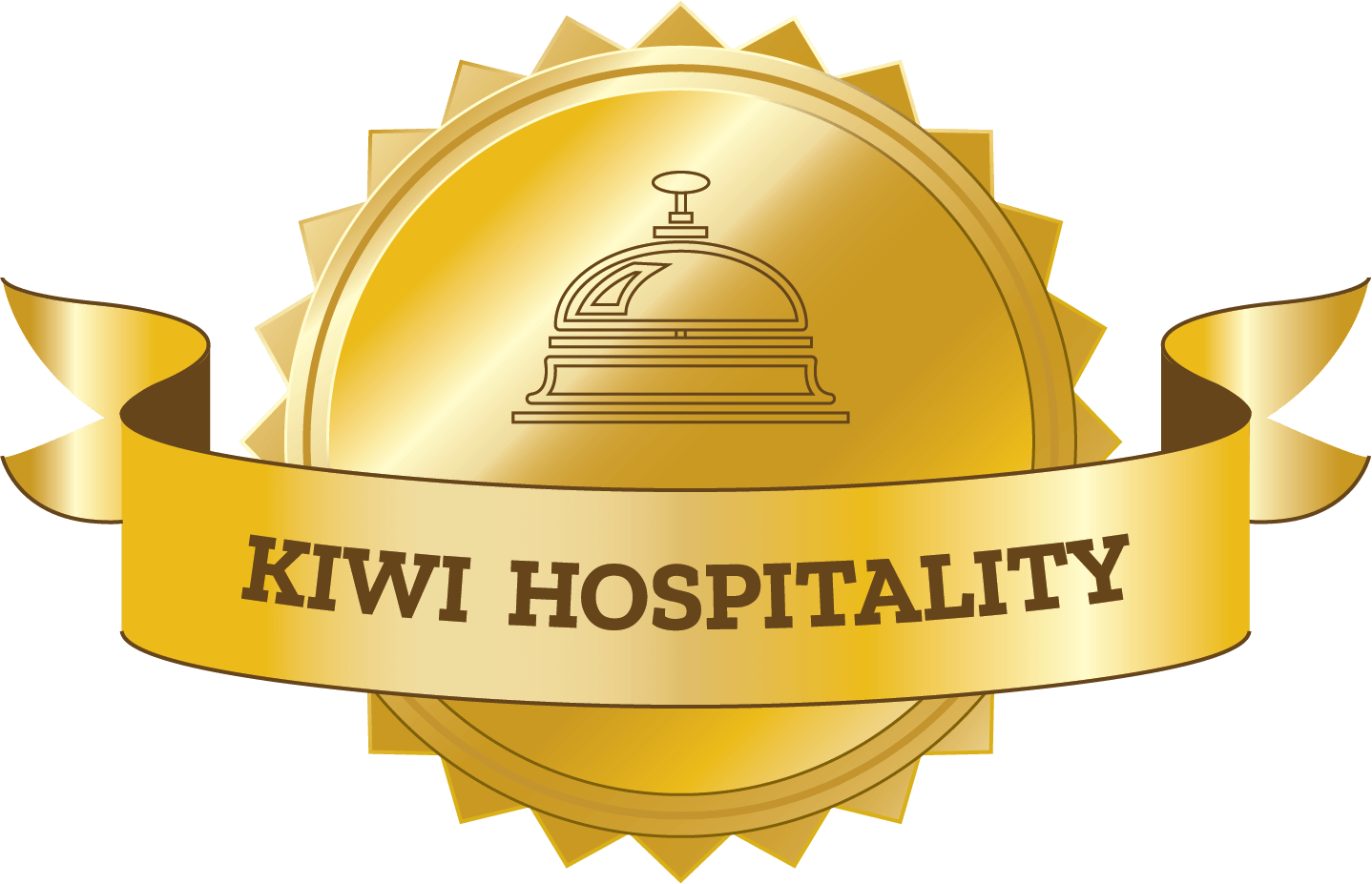 It's kiwi hospitality - people looking after people. Since Covid-19, this has never been more important.
We're New Zealand's Accommodation Network
Look After Me originally launched as an accommodation network ahead of the Rugby World Cup in New Zealand, 2011.
Together we've looked after over 30,000 guests all over New Zealand.
Our hosts look after guests by offering welcoming, affordable acommodation.
Rooms are mostly self-contained units, holiday houses and guest suites. We also offer Bed and Breakfasts, Homestays, Farmstays and Holiday Houses.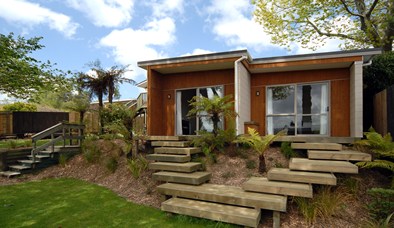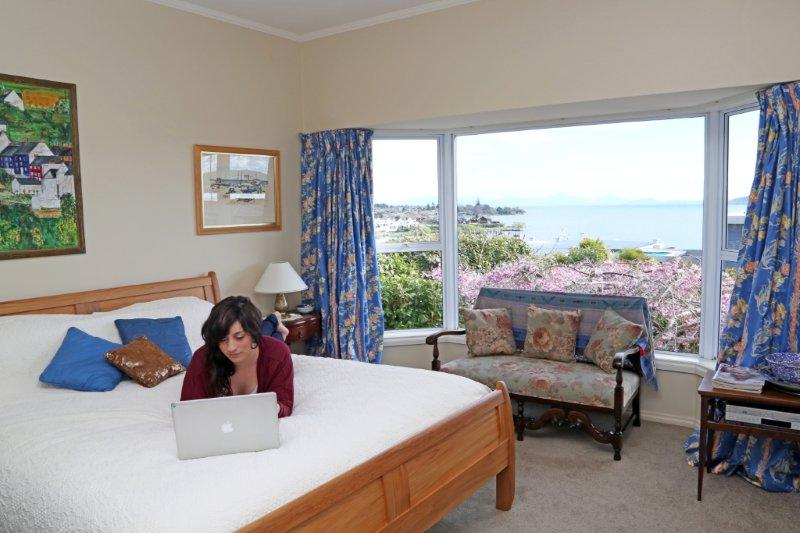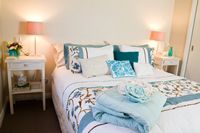 NEW FOR 2021 - MAJOR UPGRADE
Virtual Hotel pops up to encourage safe bubble-to-bubble tourism
In response to the global Covid-19 pandemic, we've adjusted quickly to ensure we are prepared to look after New Zealanders as they travel.
With more self-drive travel, as couples or double-couple bubbles, we are doing our bit to unite New Zealanders through innovative thinking, bringing hosts and guests together.
We reasoned that between us, we already have enough accommodation - we just need to get better at sharing it.
That's why we've built New Zealand's first ever Virtual Hotel!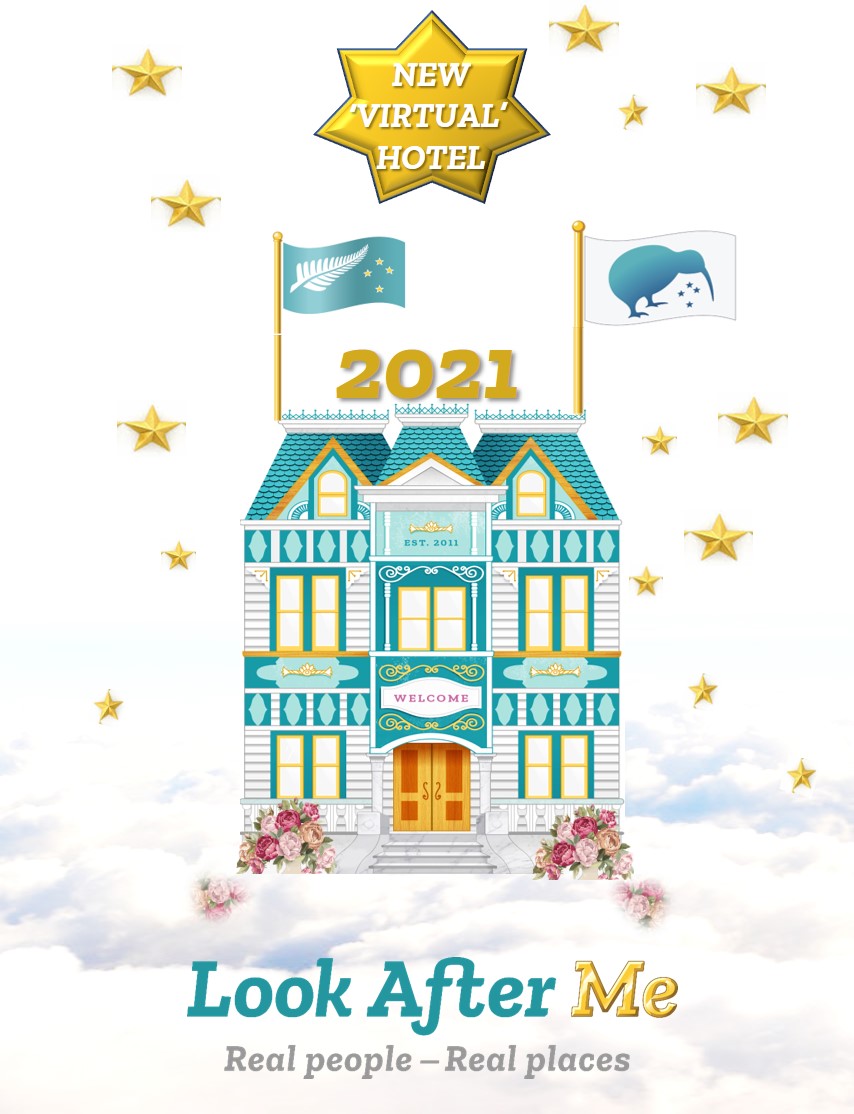 What's a Virtual Hotel?
It's a new concept created by innovative New Zealanders.
First opened in 2011 but completely upgraded in 2021 and launched at TRENZ, in May 2021, in Christchurch. [Read launch story].
We are trialling it as a way to help the tourism industry recover Post-Covid 19.
By definition, a hotel is 'an establishment providing accommodation, meals and other services for travellers and tourists.'
Virtual, means 'not physically existing as such but made by software to appear to do so'.
The Look After Me Way provides a framework for qualified hosts to offer accommodation, meals and other services to guests. Together our hosts use our systems and software (instead of concrete), to unify our brand.
Although our rooms aren't in the same building or in the same place – they are managed from a central location, using a core set of principals and brand values.
As our guest, we understand that you are unique.
Every room and each host who looks after you, is also unique.
We aim to match you with the convenient accommodation that suits your budget. We introduce you to the right host, at the right place - no matter where you are going, or why you are travelling.
We have many different styles of accommodation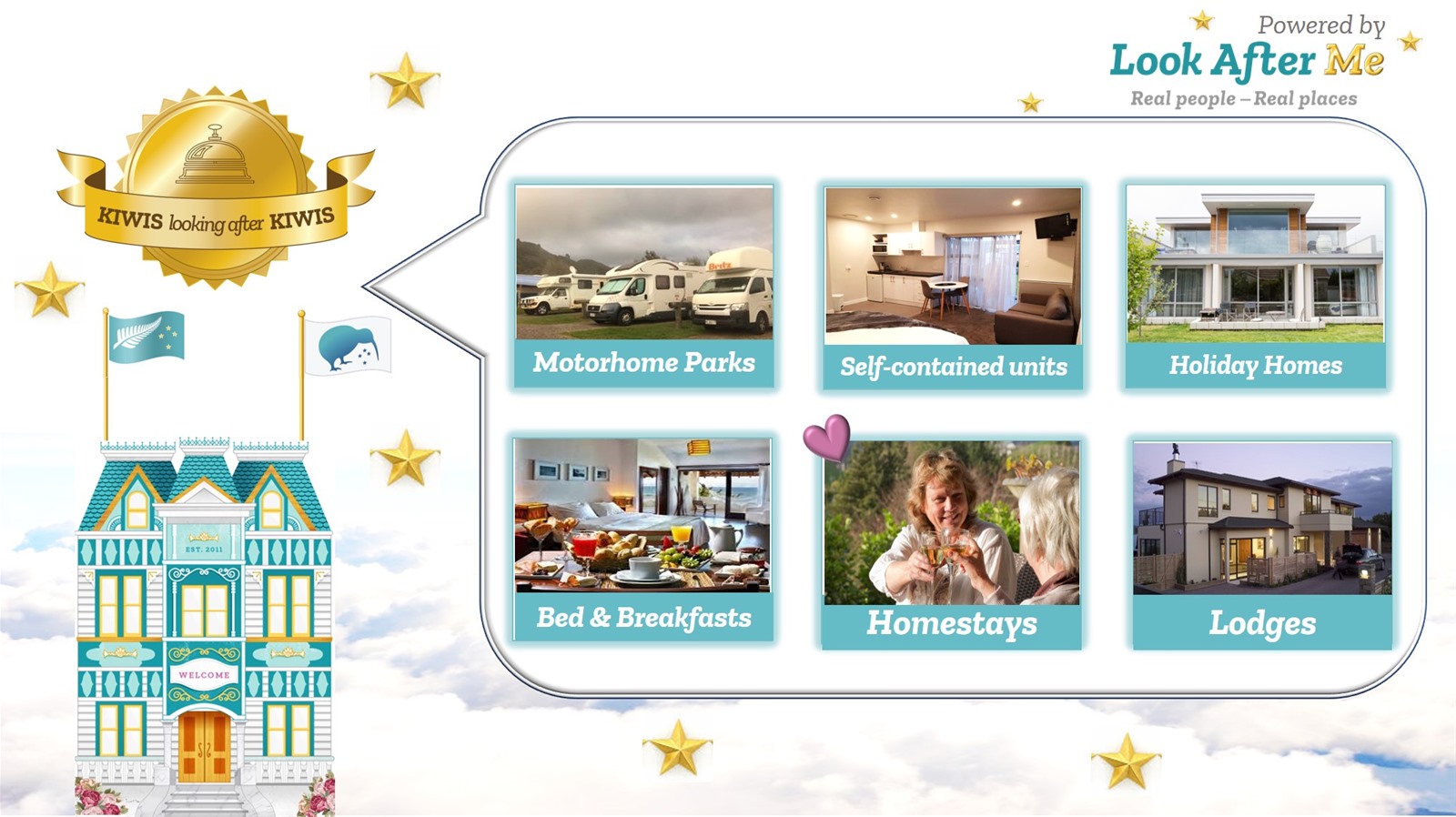 The Original Idea for Look After Me was inspired from this "Doll's House View" of creating an imaginery Hotel.
Every room and customer is different, but we are held together by our shared values.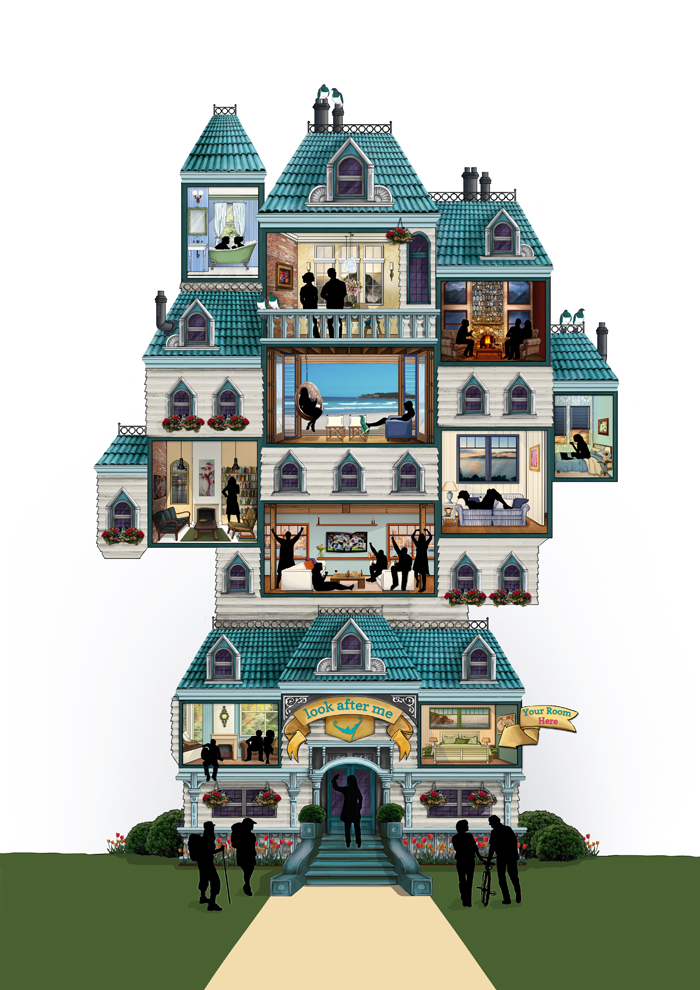 The Foundational Concept for the Look After Me Accommodation Network was inspired by Julia Anne's respect for Katherine Mansfield and the magic of a story called The Doll's House. Special thanks to Annabelle Archibald, a graphic artist with flair and finess who delicately created this beautiful representation of the Look After Me Virtual Hotel concept.
Who stays in our Virtual hotel?
We warmly welcome singles, couples, singles and small groups of 2 - 6 people.
As our guest, we invite you to select accommodation that best suits your style – be it classic, quirky, charming, country or chic.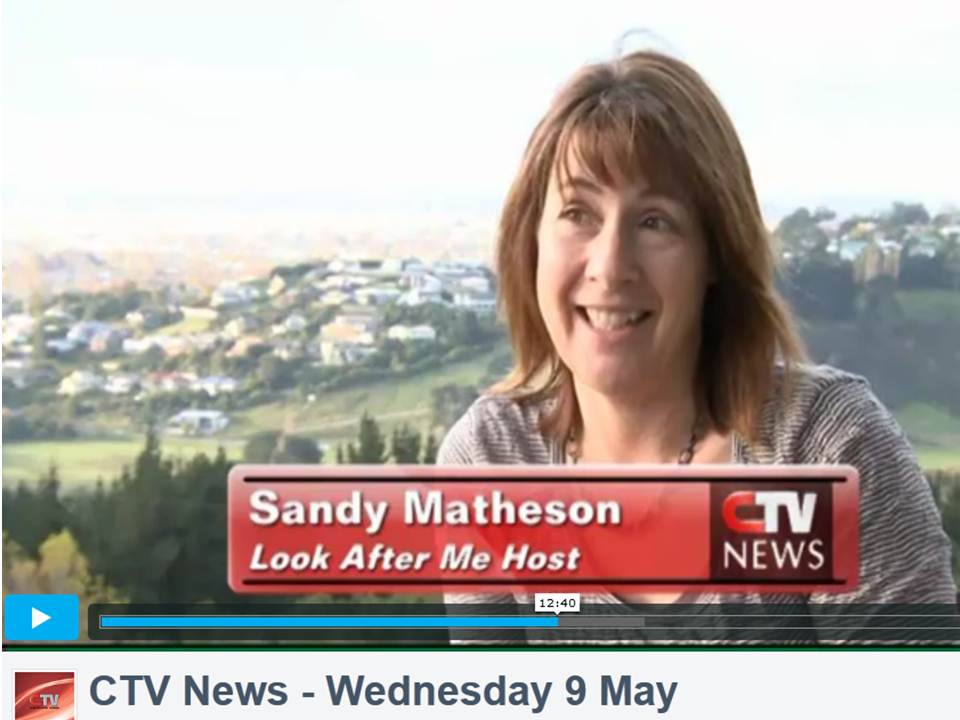 Click on the picture or this link to watch this video to understand how our Virtual Hotel is working in New Zealand.
We first introduced the idea of a Virtual Hotel to help with the rebuild of Christchurch, after the earthquakes in 2011, but then modernised our software and hygeine practices considerably in response to Covid-19 to tailor experiences to our guests in a changing market place.
What about meals?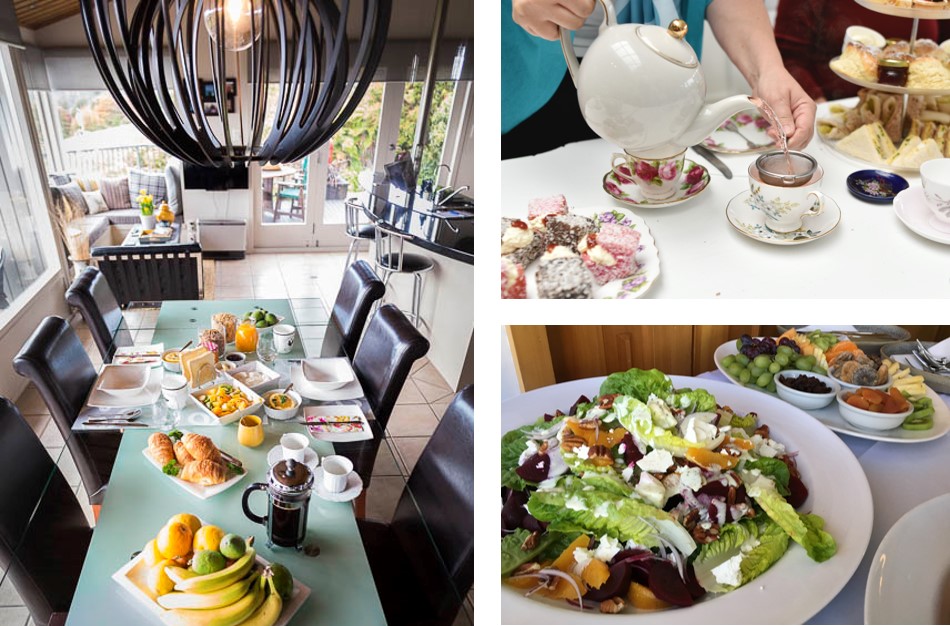 Keeping it real also means nourishing, enjoyable meal-times for real prices.
Some of our Homestay, self-contained units and apartments include a light breakfast, usually cereal, fruit, toast and tea and coffee.
Many hosts set up breakfast for you and invite you to help yourself at a time that suits you best. This works well for people who like to be casual with morning dining.
Our 'Bed and Breakfast' range offer a more substantial meal with both hot and cold options.
Additional meals, like dinners and picnic lunches are by arrangement and reasonably priced. We know and trust our hosts will serve meals that are thoughtly prepared according to your dietary needs, will be fresh and local as well as offer good value for money.
We have optimised how we offer hospitality, while being respectful of physical distancing.
Unless stated our Holiday Houses are 'self-catering'.
You are welcome to use services like Grocery Delivery or Food Bags to arrange to have meal options delivered to your holiday house, if you prefer a self-cook options.
We advise you to read the profile carefully, so you know what to expect and what's included.
Our local hosts will also be up to date with takeaway options and the best local restaurants.
We encourage candid conversations (phone or email) between our guests and hosts to arrange meals ahead of time.
Added extras
Costs can really add up when you travel so most of our hosts provide additional services for no charge. Here are the sorts of things you'll find useful:
Internet access - FREE

Laundry - usually self-serve - FREE or $2 contribution for power

Parking - arranged with your host - FREE and included. Just follow your hosts directions.

Quality tea/coffee - FREE - as most rooms also come with breakfast.

Unique 'little touches' like fresh flowers, home-baking or small welcome gift - FREE AND PERSONALISED

Personalised choices for wine and beer. Alcholic beverages can be legally served to up to 10 guests in any one homestead, lodging or self-contained establishment. We always encourage safe, responsible drinking. Guests can chose according to their budget and tastes. Again, we encourage guests to select their preference of beer and wine ahead of time so your host can prepare for your arrival.

Local Knowledge: Package Deals and local discounts - We encourage our Hosts to BYO (build your own) packages to bring great deals to kiwis looking for genuine experiences.
Great value for money
Standards are important and you want to be assured of very clean properties and great value for money, no matter your budget.
We are real people, with real places and that also means real prices.
We personally assign each of our homestays/guest rooms a Quality Mark of Trust in one of three levels of accommodation and work with the host to agree a fair room rate and package deal rate that is fair for both guests and hosts.
Before and after your stay, our Look After Me team can provide you with a secure payment gateway link, that turns your cell phone/computer into an EFT-POS machine.
This means you can incur charges (meals, transport, additional accommodation and services), which can be itemised for GST reciept purposes and reciepts issued for accounting.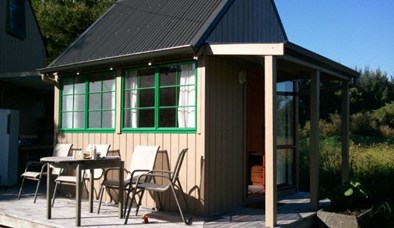 Basic (2 star equivalent): Very clean and comfortable rooms typically in modest homes or basic self-contained units ($60 - $99). Usually shared bathroom or limited facilities (eg may not have Wi-Fi). Some require linen or may be self-catering.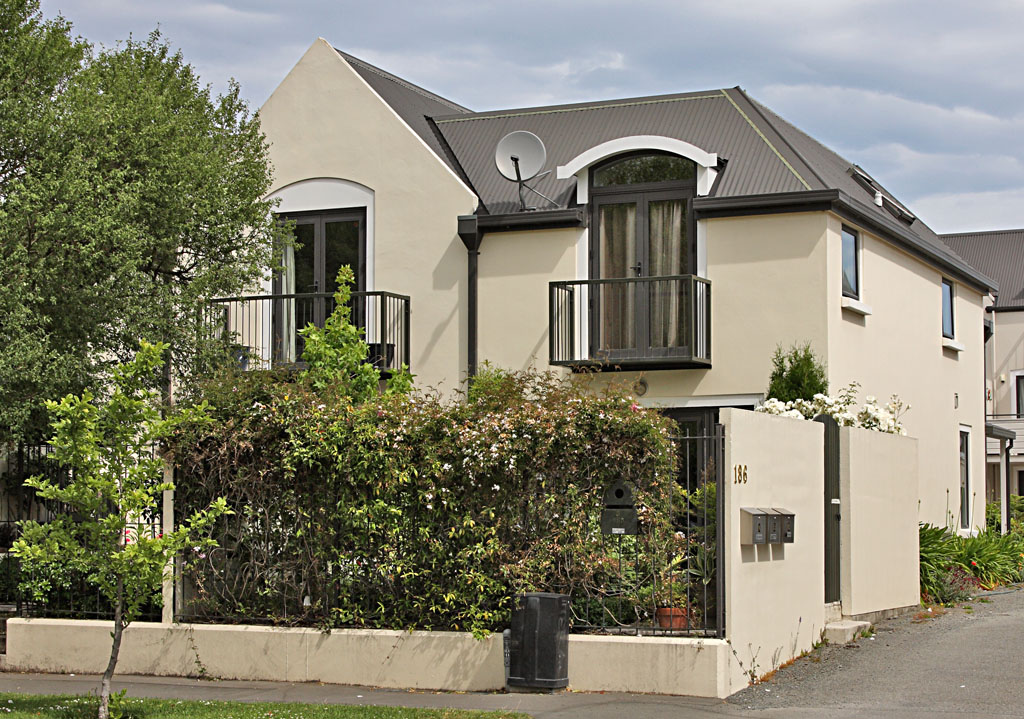 Classic: (3 - 4 star equivalent) Very clean and comfortable rooms in quality homes, modern decor, beautifully furnished and appointed. Mostly Bed and Breakfasts, Holiday Houses and Homestays. From $99 to $245 per night. Breakfast often included, quality tea and coffee. May have own bathroom facilities, or in-room entertainment. Internet, laundry facilities and meal options available by arrangement. This represents 80% of our guest rooms. Genuine 'at-home' feel managed by caring kiwi hosts.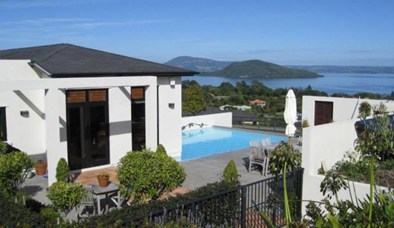 Premium: (5 star equivalent) Our most luxurious accommodation with breathtaking views, stylishly appointed for our most discerning guests. From $245 per night. Stylishly appointed Lodges and luxry properties. We're proud to offer these utterly delightful properties with in gorgeous parts of New Zealand.
Unforgetable.
A warm welcome awaits